BSNL is one of the largest national internet service provider and telecom service provider in India. Just imagine if you stop receiving salary for the work you have been doing. For the past few months the crisis have been going on with BSNL where they are unable to pay the Salary for their employees. I initially did not know anything about this. I have been receiving so many messages for the past few months about some exciting offers from BSNL. Basically I'm not a great fan of BSNL because I somehow felt that they were always slow in the race. When I started seeing more offers, I was thinking that the company is starting to bloom again.
Few days back I received a paper cutting from one of my friends that had a news about BSNL not paying their employees. It was quite sad to read that news. I immediately imagined placing me in a similar situation. I felt so pity for people who were so much dependent on their salaries to run their monthly expenses. I immediately forwarded the message to one of my friends who's mother is working in BSNL and enquired about this. He did confirm that his mother's February month's salary is on hold and not cleared yet. Not just that but their pension amount is also questionable it seems.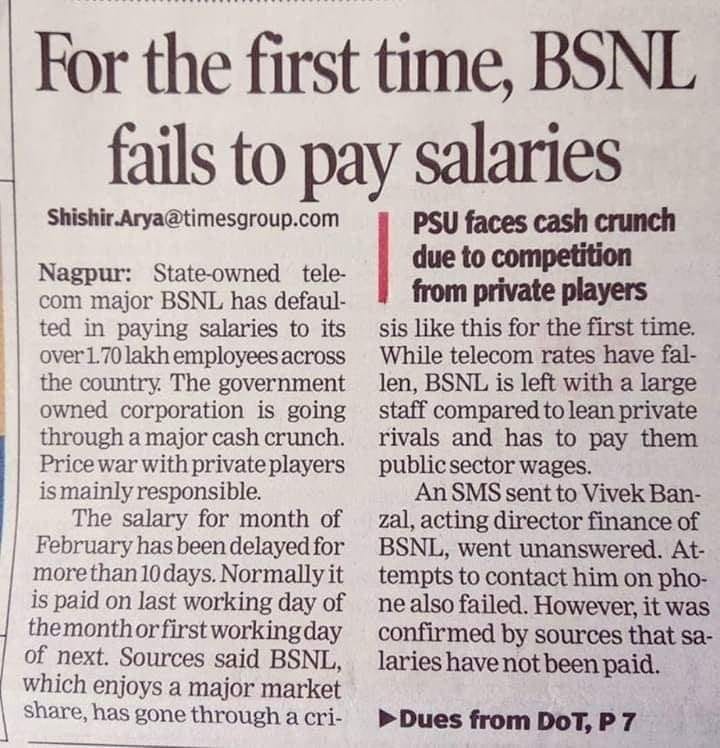 BSNL has never had any such issues in the last 18 years and had always been a reliable employer for the employees. The services that they provided to the employees and public was also kind of reliable and more importantly stable which most of the other competitors failed to do. One thing to note about BSNL service is that, when there was a massive flood in Chennai, BSNL landlines were the only communication source that people had and it was working find in spite of having flood. Other telecom services took more than a month to resume services but it took only few hours and few days for BSNL to resume its services.
One of the news sources also mentioned that the contractual employees are the one who has been affected a lot because of this problem. Their 3 months salary is still due from the company. It is a notable fact that BSNL is one of the telecom companies that have the least debt of around 13,900 crore. The other telecom competitors of BSNL like Airtel which has Rs1.13 lakh crore and Vodafone which has Rs 1.2 lakh crore debt are not having tough times. We have to honestly agree that the customers are moving away from BSNL because of the best offers that they get from the other service providers.
The company should have taken care of their market strategy and should have made plans for sustainability. It should not have ended up in a situation where the employees are getting affected. The officials have said that as and when the funds start accumulating for them, they will slowly start releasing the salaries. I'm not sure how this is going to work in the long run. I guess the company should either be aquired by any other telecom provider or they should somehow find a way to sustain in the market.
Image Source: Paper cutting and Pixabay.com