Today I dedicated the whole day for gaming. Now only I realized that I have spent more than 10 hours today for just playing dota 2 alone. I have not played dota 2 for quite some time especially in the past week. So today I wanted to play the game and quench my thirst. The day started very well with 2 winning. And after 2 wins, the losing streak started. After a few continuous losing, I was humiliated and I wanted to win at least one game and that's how I ended up spending the whole day on dota 2.
Unfortunately I had so many bad players in the team who were not at all cooperative. As soon as the game starts, I will know whether it will be a win or a loss. Something I noted today was that if I play a hero and lose a game, it looks like somehow the next game is also a bit boring with the same hero. What I realized was that I should be changing the hero in the next game so that my mind will not immediately declare that this game is not going to be a win.
Unknown players
Today i'm seeing this for the first time. Usually when the game ends, we have an option to chat with other players. That's where most of the hating and reporting and blaming happens. Today I noticed something that the list of players were displayed as unknown to me. I don't know the reason. I was wondering if that was a new change that was implemented to dota 2. In a way it is good because people can avoid fighting and blaming post game.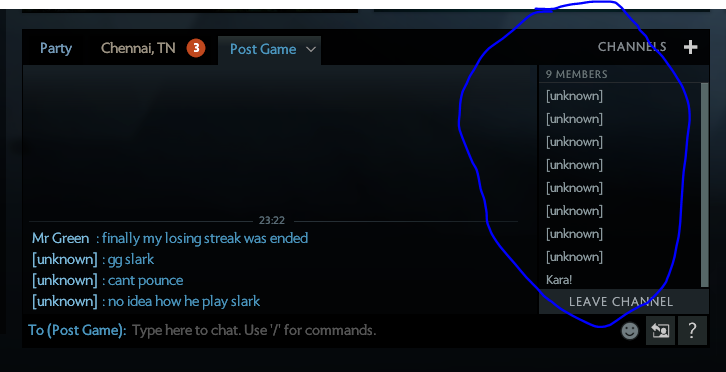 Though it is a new feature, it is still a puzzle to me. And apart from the game play, I had to ignore so many annoying players today. If I ignore them, they will not be in the match making pool with me. It is better than abusing someone if at all they again come in the same match making pool. I have had instances where a player would have played like shit in the previous game and we would have lost the game. If I search and enter the next match, the same player will be there in my team and at that instance itself I will know that the game is going to be a loss. So to avoid that ignoring a user is a great facility.
Lets talk more about my losing streak
This is not the first time I'm getting a losing streak. It all depends on the mood and how the matchmaking happens. Sometimes I even feel that the matchmaking is the main reason why I get some stupid players in the team and end up losing the game. It will be so annoying to play with someone who is not at all doing teamwork. In most of the games that I played today, I picked Nature's prophet and I realized that I did lots of mistakes and I was not properly concentrating on the game. I should have been patient about playing but I was also greedy a little bit chasing some heroes and getting into trouble.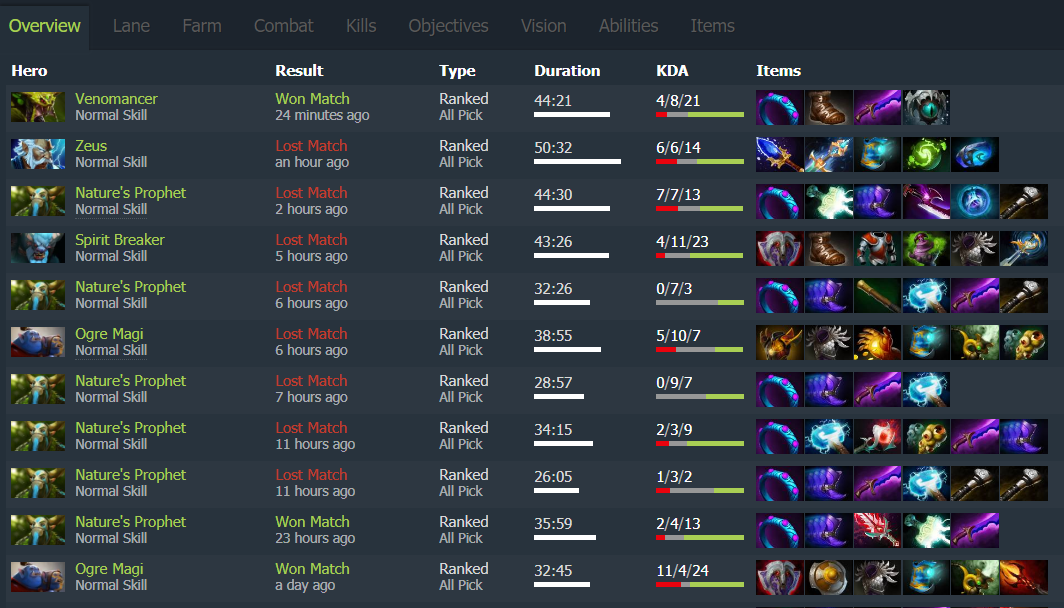 After having a big unproductive day like this, I almost feel that I should quit dota 2 and do something that is really useful for me. Not because I was in a losing streak today but at the end of the day it makes me feel that the whole day was spent without doing any productive activity. That's what makes me regret that I should have spent my time on something useful.
I had the same feeling before few years and that is when I decided to quit dota completely and uninstalled it from my system. But after I bought my new laptop last year, I was again tempted to install dota 2 and play in the new laptop. I have played over 2000 games already.

The green one is the number of games that I have won as per record and the red one is the number of games that I have lost so far and 33 games that were abandoned or not counted. So totally I have played 2069 games in Dota 2. I have been playing this game since 2013 but I used to play like mad during 2013 and 2014. Great that I can even check those stats now. Below is the stats for 2013 and 2014.

The bigger circles show that I have spent so much of time on Dota 2 that day and I think it also show my winning and losing streak with a color difference. The red or the orange ones are my losing games and the green ones are the games that I won. Mostly around October 2014, I stopped playing the game. Now again I resumed around April 2018 after getting my new laptop. Lets see how the calendar looks for the past one year.

Good that the circle size is smaller compared to the past because I'm not going mad nowadays about this game. But here and there I see bigger circles where I would have played lots of games in one single day. The last orange circle is today where I lost around 10 games and won just one game. I don't think I will anyways stop playing the game. I have to just bring some regulations in the time I spend on this game. Instead of spending so much of time here, I have to make it little bit more productive. Lets see.