After the new version of Drug Wars, I noticed that the UI was full black with a simple black design. Many people even complained about the changes that were made to the options in the game and the way the stats were displayed in the game. I was happy that there was a new UI design but at the same time, I also felt that it would have been wonderful if the UI was a little better. Today morning I noticed that the UI has been changed a lot. The images and the theme looks sexy now. I guess it is also very good if it keeps changing. I have been playing Drug wars from day 1 of its launch. It has definitely been a great use case for the Steem blockchain.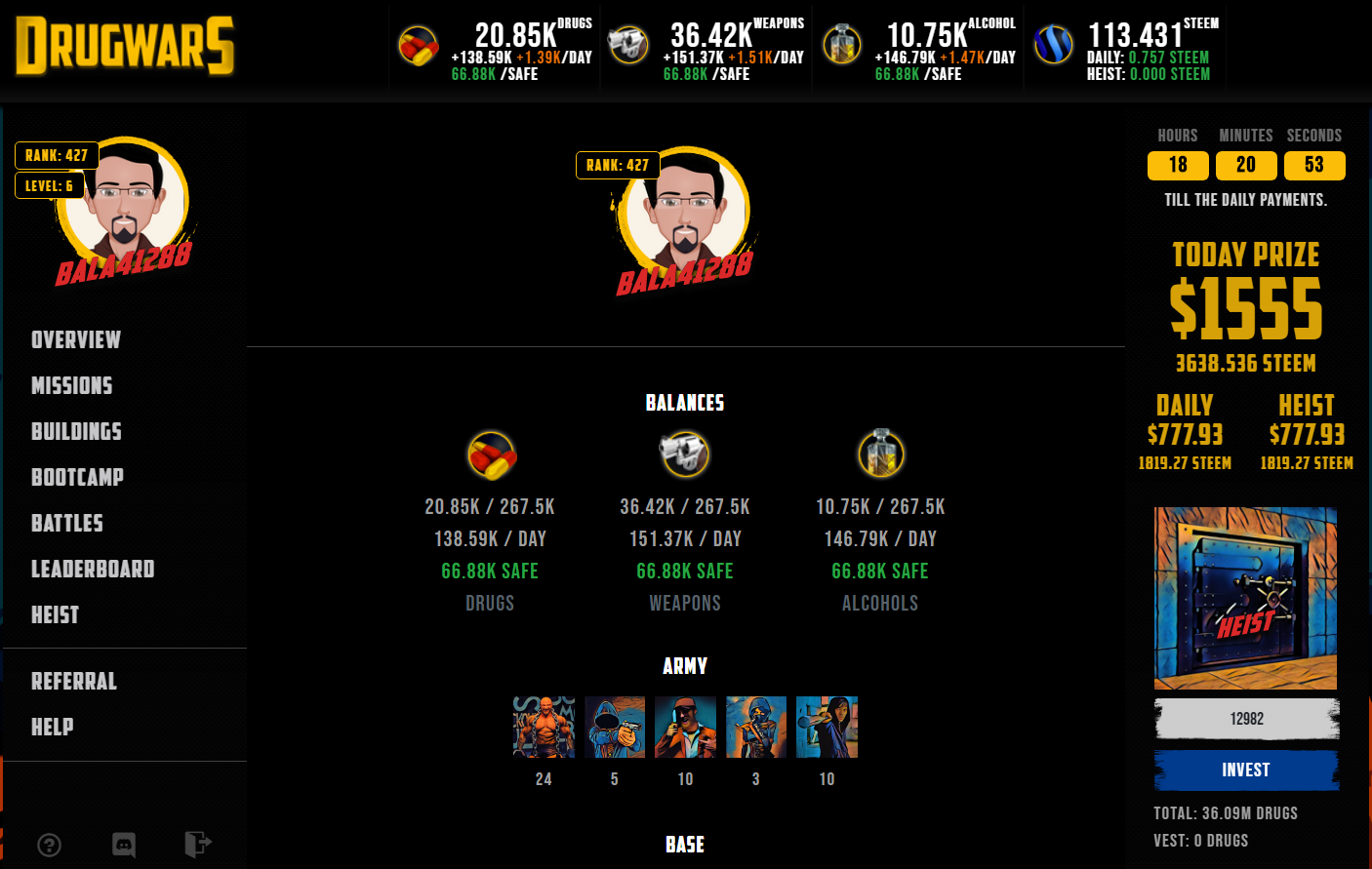 There are also new players who have started to play this game. Some of my non-steem friends were also interested about this game and asked me what it is all about. The hype that I gave them was that I produce drug virtually and the game pays me in cryptocurrency for producing drugs. Cool right!! They were really attracted hearing that statement and were really curious and when I started to explain them about steem in details, they showed me a boring face. I had to tell them that they have to spend some time to understand this to be able to get their hands on steem blockchain. Well, I have no hopes on them but I will keep trying. In this article, I would like to give some updates on my progress in the game and my strategy.
My current stats
Like I mentioned in one of my previous articles, there is an amazing tool available where you will be able to find out your lifetime profit stats from the drug wars game. You can comment on any of the posts with the command!bookkeeping drugwars you will get your stats. This stats show how much you have invested in the game and how much profit you are getting daily from the game. My current stats from the game looks like the below: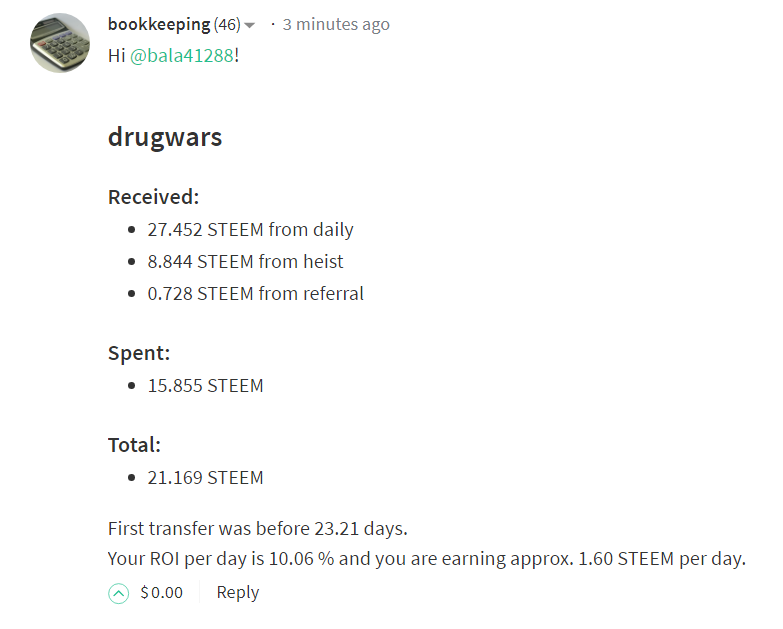 Resources
For the past few days, I've been concentrating on increasing my resource production just randomly. I was travelling for the past few days and returned yesterday. Today I have some leisure time and again I have to travel for the next few days. I have been using only my mobile device to play this game. After version 0.2.0 the site looks really good in my mobile device and it is very comfortable to play.

In my previous article, I mentioned that I will be focusing more on increasing my storage capacity and I have been continuously doing that. As my drug production upgrade is not happening for the past few days, my payout is also gradually reducing compared to the past. I have to work on that real soon. If my focus is more on that part then I'm missing to upgrade my other buildings. So far, I have upgraded all my storage buildings as much as I can to safeguard it from looting. I also make sure my resources don't go below my safe storage capacity because I don't want to lose them to someone in the battle.
Battle
I'm not someone very fond of battle. Maybe I will start doing battles later but now my current focus is to save my resources and upgrades my buildings. I have not spent much steem on this game, so my progress in the game is a bit low but in a way, I'm happy with that because I have got my investment back and more than what I invested. Which is really good. I don't want to spoil my progress by doing battles. In my previous article, I mentioned that there are still lots of areas for improvement in the battle. I feel that the game is gradually improving day by day.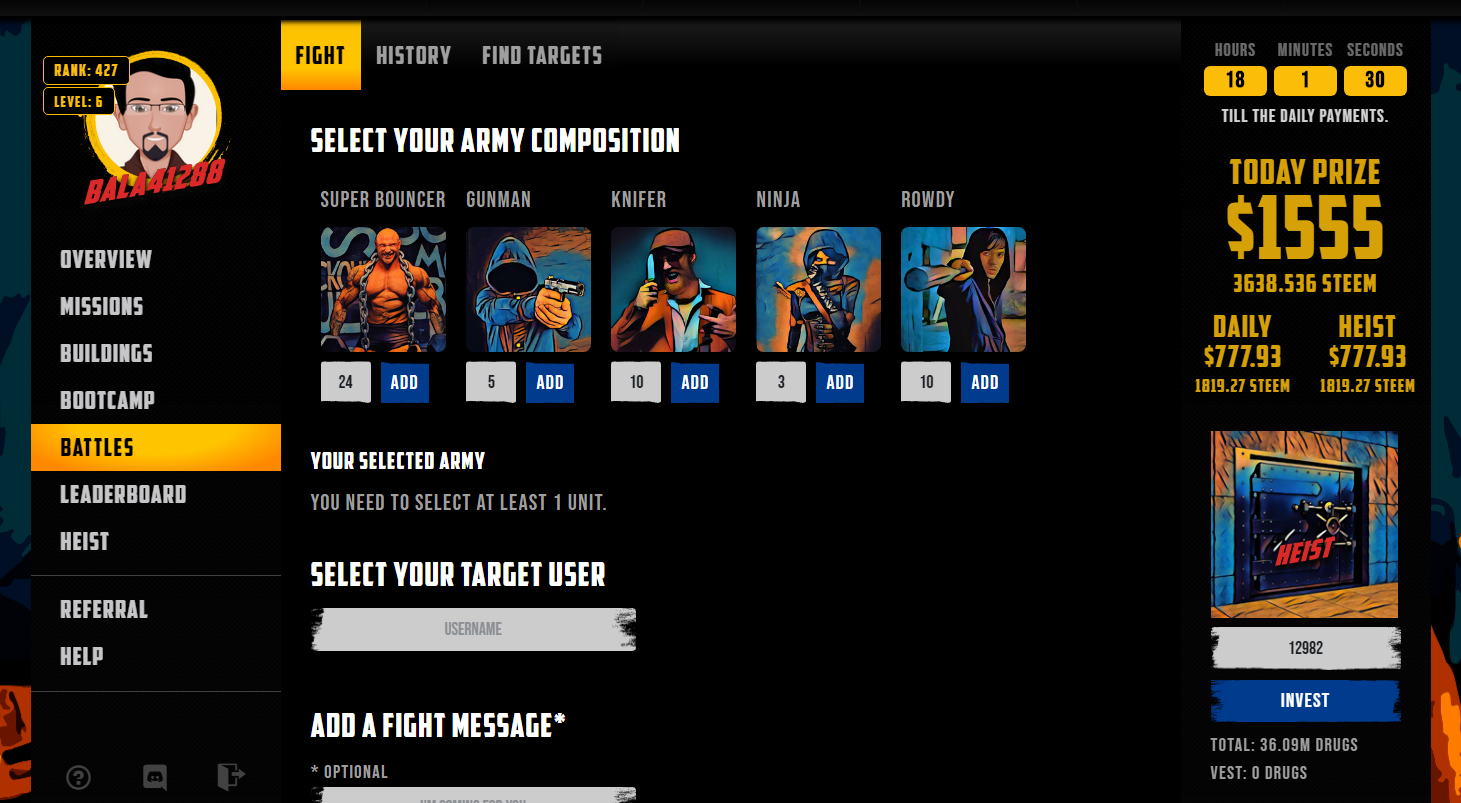 My strategy has been to avoid battles as of now. I login to the game frequently and check my resources. If I have enough resources for upgrades, I don't hesitate to upgrade my buildings. I do this to make sure I'm not caught by someone in the battle. I feel that investing in units is not a great thing for defence purpose because someone with more powerful units can wipe off my base as well as units. The units won't even heal back and I will end up in a loss. I'm not going to take that chance for now. So, I will focus more on increasing my storage space and focus on upgrading the buildings and playing a safe game.
I did invest a little initially on buying units but I feel that it is not going to be of great help in defending the base or for attack. Finding players to attack is also not very easy. I'm just going to stop investing on units and focus on upgrading the buildings.