Welcome to yet another article in Effective Leadership Series. In the previous article, we saw in detail about the importance of decision making and how decisions can be made effectively. In this article, we will see about Goal Setting. It is actually time for me to set goals for my team in my office. I'm a bit excited to do this because I'm a firm believer that a proper planning and setting the right goals can drive the team and project towards the path of success. For any leaders, setting goals for the team is an important task. Goals are usually set for either short-term or medium-term or long-term. For every manager or leader, setting goals involve lots of parameters to be considered. One such important parameter is that the goal should be ambitious and at the same time, it should also be achievable. It need not be always a fully defined goal but the ultimate aim is to get a good outcome from it. Goals can also contain sub-goals which again can be stretching, feasible, hard-headed and finally achievable as mentioned earlier. By splitting the goal into multiple sub-goals can be really helpful for the individual team members to manage the goal well and accomplish it part by part. Achievable targets should be set in order to make the goal interesting for the team.
Importance of being Ambitious
While setting goals it is important to be ambitious to get the desired output. People respond to ambitions in both sports as well as business. In case of sports, they set their ambition first in front of their eyes and then work hard towards it and always aim towards high achievement. The same strategy works in business as well. It is all driven by the leader. When a leader is setting the expectation with the team, they should always think big. When seen initially the task might look impossible to achieve or unrealistic. But with hard work and team effort, it could end up being a piece of cake. It is not just the members of the team should get pure satisfaction after achieving the goal but even the observers should be admired. The goals should also give pride to the team members once it is achieved. The best example of this can be taken from space exploration. Without a proper determination and great attitude, it would have never been possible. It was completely a grey area before someone found some light. It was all team efforts where they trusted their capabilities and worked as a team. The space exploration team were really ambitious to be successful. That is the reason why we are having and all sorts of technological advancements today.
Testing Criteria for Goals
As a leader, there are few questions that you can ask yourself while setting goals. The goals that you said should have some criteria. You can ask the below questions to test the criteria for goals.
Are the goals clear, hard and easily measurable?
Is it possible to achieve the goals realistically?
Is there a clear and confined time-frame available?
Are these goals approved by the members who implement it?
Would it be possible to translate them completely into a full plan?
Is there is a possibility for revision if required?
Is there a possibility to advance our strategy by reaching the goals?
Will these goals generate rewards at the end and make the staff members feel proud?
Is it possible to break down the collective goals into individual goals?
If we just continue, we will be able to think of many similar questions while creating and setting goals.
Selecting Objectives
We can split the progress into three steps namely objectives, targets and ultimate goal. Selecting the right objective is the first step towards reaching the ultimate goal. The below representation will be very helpful in providing an overview on selecting objectives and working towards the targets to reach the ultimate goal.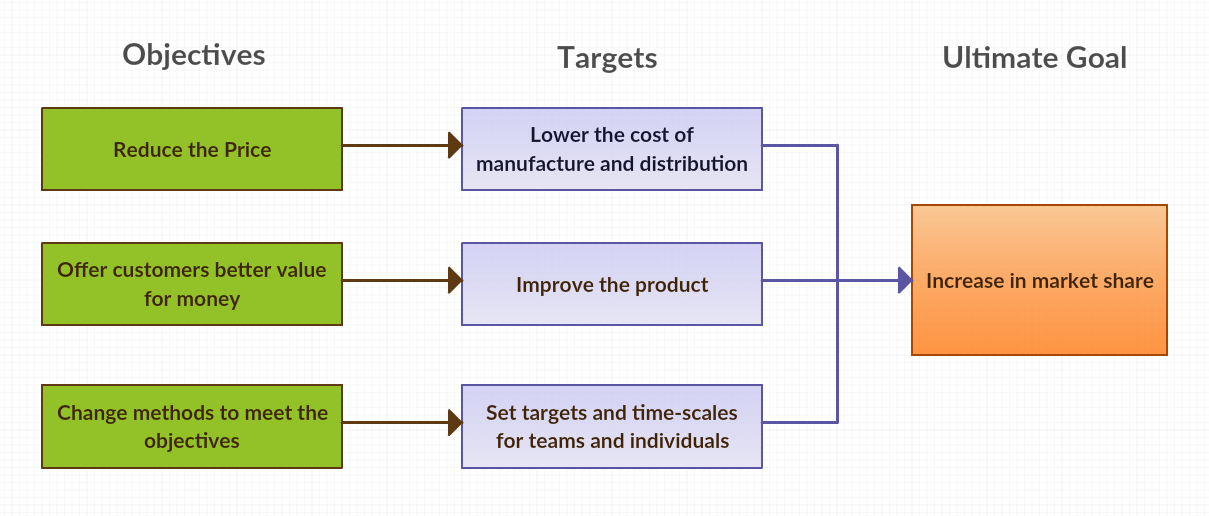 In order to achieve an end goal, one should be fully focused on the objectives and the targets. Timescales are also one of the considerable factors that team should have in mind while discussing and setting the objectives. A complete analysis of what the ultimate goal is will give you a big canvas to explore the objectives and targets. Setting objectives helps in making the planning easier and setting targets helps in making the execution easier.
Setting Objectives
If you are planning to hit a tree accurately with a bow and arrow. You have to first aim for a spot in the tree before you shoot your arrow. Setting objectives is like marking the right spot in the tree before trying to shoot. When you set goals, it is quite obvious that you will have to travel through the path of unexpected difficulties or disasters and even disappointments. Despite all these setbacks, a true leader should be able to achieve their aims. A leader or a team member should not panic if there is an unfortunate situation that can deviate us from the success path. Next important this is to learn not to be blaming anyone. Every individual will be making mistakes, understanding the fact that we should aim for making things better next time is the real maturity instead of playing a blame game. Blaming someone will never help us stick to the plan and run things smoothly. Having a backup plan always can be really helpful if there is an unfortunate negative event. The backup plan will help us recover from the consequences of the negative event. A leader should stay strong and set right objectives for the team members. A continuous positive thinking is highly crucial in order to reach the goals. Keep motivating the team continues to do things better and also transfer the positive state of mind to the team as well.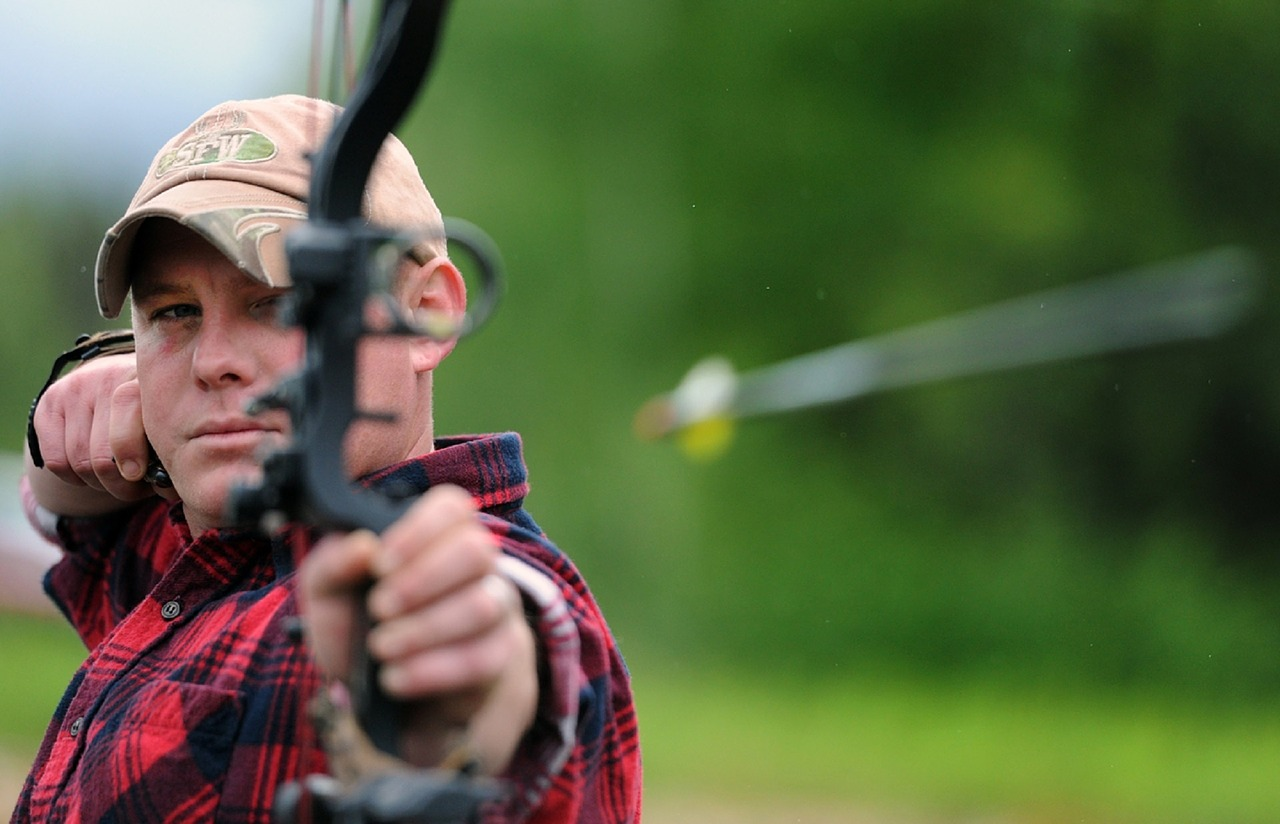 Revising Goals
Usually, goals are being discussed and set at the start of any project. But it may not be really helpful and relevant throughout the project. There can be situations where a particular goal can sometimes become irrelevant. If the project is going smoothly without any hurdle, we may not need any revision of the goals. But it is advisable to have a regular session with the team members during the course of the project to alter and align with the goals that were set. Reassessing the goals with the team members to understand the viability of the goal is important. Especially when there is a setback, revising goals might be required as an immediate action plan. While doing a revision all the criteria should be taken into consideration including resources, time, money etc. If there was something seriously wrong, you can even abandon a particular goal to keep things smooth. Doing a details analysis with the team is very important before taking such decisions. If you incur some loss because of a disaster, alter goals immediately to cut your losses fast. Some action plans will be required to be done as a team and some action plans might just need the leader to take a decision.

Image Source (CC0 Licence): [1], [2], [3 – Designed using Creately], [4], [5]

Hope you had an interesting read. Share your views on this topic in the comments section.

My previous articles in this series:
Effective Leadership #1 – An Introduction
Effective Leadership #2 – Focusing on Quality
Effective Leadership #3 – Learning From Others
Effective Leadership #4 – Gaining Experience
Effective Leadership #5 – Comparing Leaders and Managers
Effective Leadership #6 – Developing Strengths in General
Effective Leadership #7 – Building Personal Strengths
Effective Leadership #8 – Mastering Roles
Effective Leadership #9 – Evaluating Key Leadership Roles
Effective Leadership #10 – Preparing to Lead
Effective Leadership #11 – Staff member recruitment
Effective Leadership #12 – Forming the team
Effective Leadership #13 – Exercising Authority
Effective Leadership #14 – Delegating Tasks
Effective Leadership #15 – Process of Delegation
Effective Leadership #16 – Effective and clear communication
Effective Leadership #17 – Dynamizing Groups
Effective Leadership #18 – Leadership Types
Effective Leadership #19 – Military Leadership Model
Effective Leadership #20 – Collegiate Leadership Model
Effective Leadership # 21 – Decision Making