Git Hub Repository: https://github.com/Steemhunt/web
Steem Hunt is a platform that I admire so much and I always wanted to write a detailed article about this platform. We have been hearing a lot about many DApps emerging on Steem Blockchain. Not just Steem but other Blockchain platforms are also getting many DApps these days. It looks like this is the DApps era. I would like to make this article one complete package that will explain every aspect of SteemHunt and make it comfortable for newcomers. I'm also sharing my personal experiences in this article by being an active member of Steem Hunt for over a month now.
What is SteemHunt?
In order to become a talented hunter, one should first understand what Steemhunt is all about. Steem Hunt is a DApp (Decentralized Application) built on top of Steem Blockchain, focusing on providing a collection of awesome products from the Internet world. Out of the projects emerging on Steem Blockchain now and then, SteemHunt had been one of the most successful projects. You can visit the website to know more about the team and their future plans. The stats displayed on token.hunt.town is really amazing and impressive.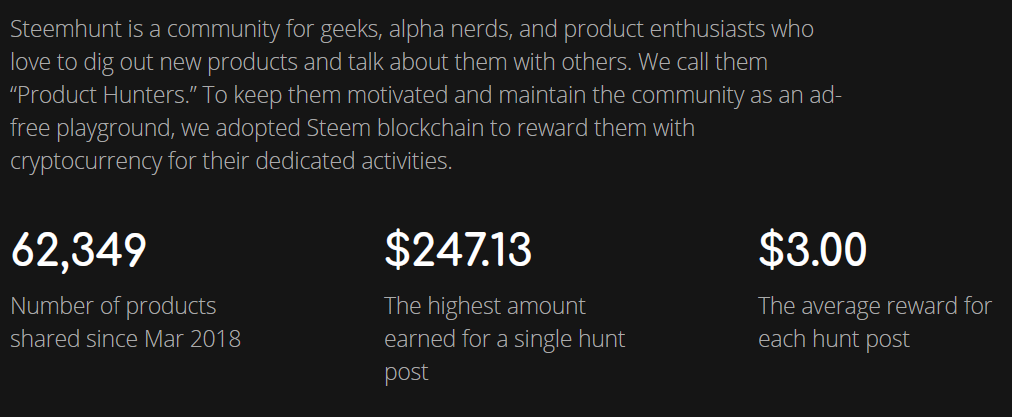 Team Members
As it is on a decentralized platform, the contents are also decentralized and anyone can view the contents anytime and from anywhere without any restrictions. There are over 250 members of the community operating from various locations of the world, trying to make Steem Hunt one of the top products platforms on the Internet world.
There are different types of team members who are responsible for the success of this platform. I would like to explain in detail about each one of them and the role they perform.
Founders and Dev Team
Managers
Moderators
Curators/Influencers
Members
End-users
1. Founders and Dev Team
Founders and the development team are the backbones behind this idea. They were the one who thought off well and tried to use Steem Blockchain as a platform where this wonderful Steem Hunt user interface can be built. There are developers in the team who take care of the User interface designing and make it work smoothly with the Blockchain.
2. Managers
Any platform will need proper management to sustain forever. There are types of managers one who manages the Community and another manager who takes care of promoting this platform to Social Media. In today's world, social media is the right platform where we can take anything to the end user. For marketing purpose, social media can be a great deal.

3. Moderators
Moderators are responsible for reviewing the hunts/products published on Steem Hunt platform by the members. Not all the hunts posted by the members get listed on steem hunt platform. There is a review procedure where Moderators review the contents and sometimes suggest some changes to the content of the hunt and then approve it to feature for the day. Moderators are vital in keeping the platform clean from non-repetitive hunts. As per the guidelines, members are not allowed to publish the same hunt twice. Moderators make sure the guidelines are followed by the members.
4. Curators/Influencers
The curators of the platform are responsible for finding the good hunt for the day and curate them. When an influencer boosts a hunt for the day, the score of the hunt increases and goes to the top 100 for the day. Only the top 100 hunts for the day get a reward from the SteemHunt team in the form of Upvote. Curators will be changing from time to time in order to give everyone a fair chance to be an influential person on the platform.
5. Members
Members are anyone who contributes to the Steem hunt platform. There are a set of Guidelines that members should follow to post their hunts on the platform. Members are rewarded every day based on their hunt score. Members also get the opportunity to earn some Hunt tokens by voting and commenting on the other hunts. For any community, the members are the backbone and same here as well. The more contributors are there, the more products can be hunted from the Internet world.
6. End-users
Anyone who is going to get benefited from the Steem Hunt platform can be called an End-user. I would call anyone who is reaching the site searching for a product as an end user. I have been an end user myself. Being a developer it can be quite challenging to find cool products that I can use day to day in my job. Sometimes, when I'm curating some of the contents on the steem hunt platform, I get my hands on some cool tools that I can use for my projects. So far, I have been able to use some Javascript tools and angular templates which I got from browsing through the Steem Hunt platform.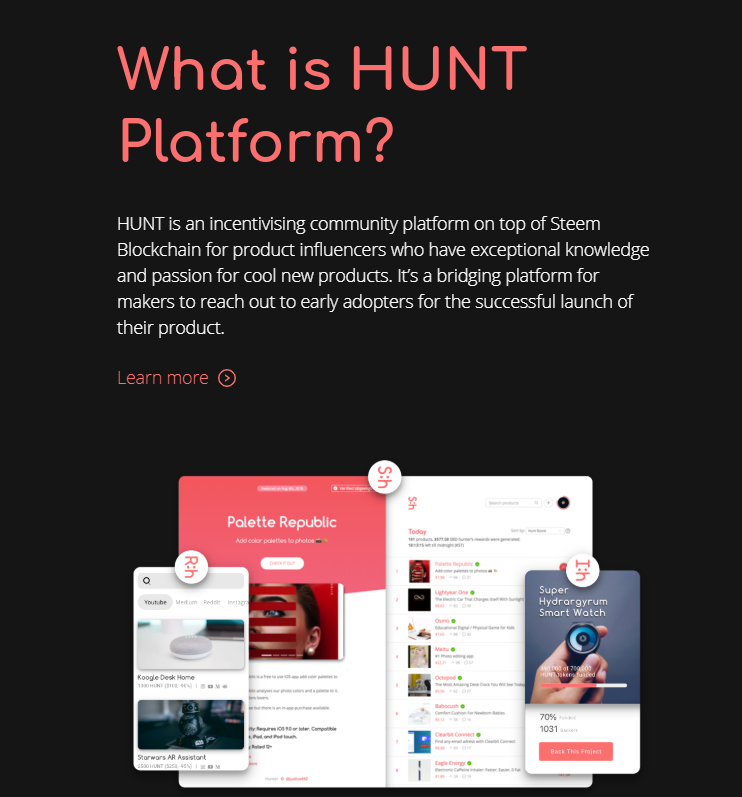 How Steem Hunt Works?
I would like to briefly explain how Steem Hunt works in few simple steps:
Step 1: A hunt is submitted by a member.
Step 2: Hunt is reviewed by the Moderator and is approved if the hunt follows all the guidelines.
Step 3: The hunt is listed for the day.
Step 4: The hunt is viewed by the other members and Curators of the community and upvoted by the community members and Curators.
Step 5: Based on the score and ranking, the hunt receives an upvote as a reward from the community account.
My personal experiences with Steem Hunt
I was one of the early adopters of the platform. I came to know about Steem Hunt platform a year back and I did spend lots of time to know about the platform and the future of the platform. But I did not do any hunts regularly. But recently when some of my friends were talking a lot about Steem Hunt platform and their contributions, it rang a bell on my head. I wanted to come back to the platform and contribute regularly. I have been an active member for the two month and I have been doing hunts almost every single day. It is really motivating to see my stats on the website.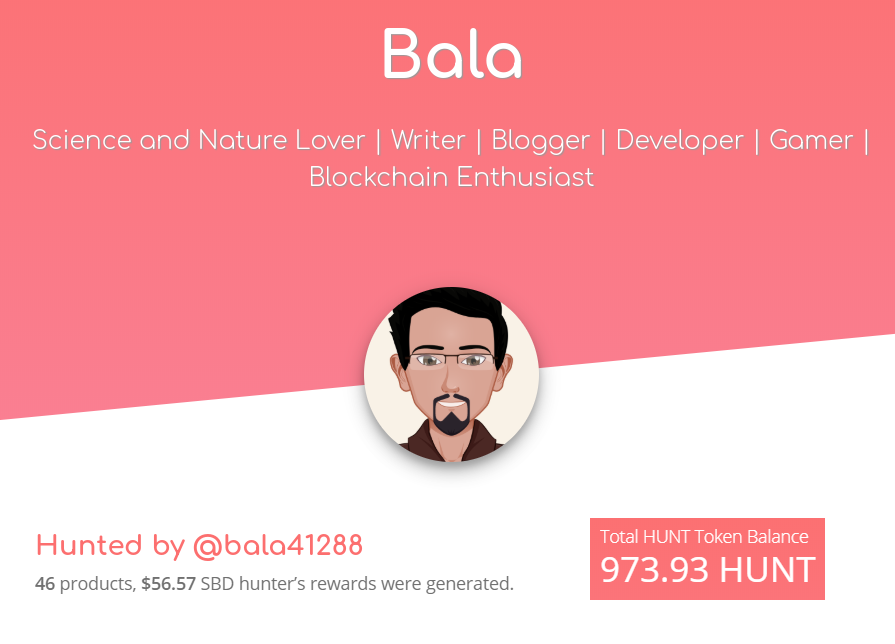 Being a technical person, product hunting is really fascinating for me. More than the rewards that I get for the hunts I have been posting, I really love searching the internet for new tools and learning about the new tools. After being active on this platform, I was able to actively use many tools for my day to day project works.
Becoming a talented Steem Hunter
Coming back to the topic, I would like to share some tips to become a talented Hunter on Steem Hunt platform. I think it will be easier if I go through the question from the contest post, one by one with my answers so that it will be easier for the readers.
Who can be defined as a talented Steem Hunter?
There are no big criteria to become a talented Steem hunter. Anyone with skills to hunt the right product can be termed as a talented Steem hunter. A talented Steem Hunter should also have the guidelines in their fingertips to easily hunt a product. The initial days can be a bit challenging and dragging but with practice, anyone can become a talented Steem Hunter.
A talented Steem Hunter is also someone who is capable of describing a little up to 1000 words about the product they are hunting. There is no specific skill required in this aspect. The person who is hunting should also be having an intention to hunt only good products for the platform. The hunts posted by the Steem Hunters should add good value to the platform. Another important characteristic of a Steem Hunter is to stick to their own domain knowledge.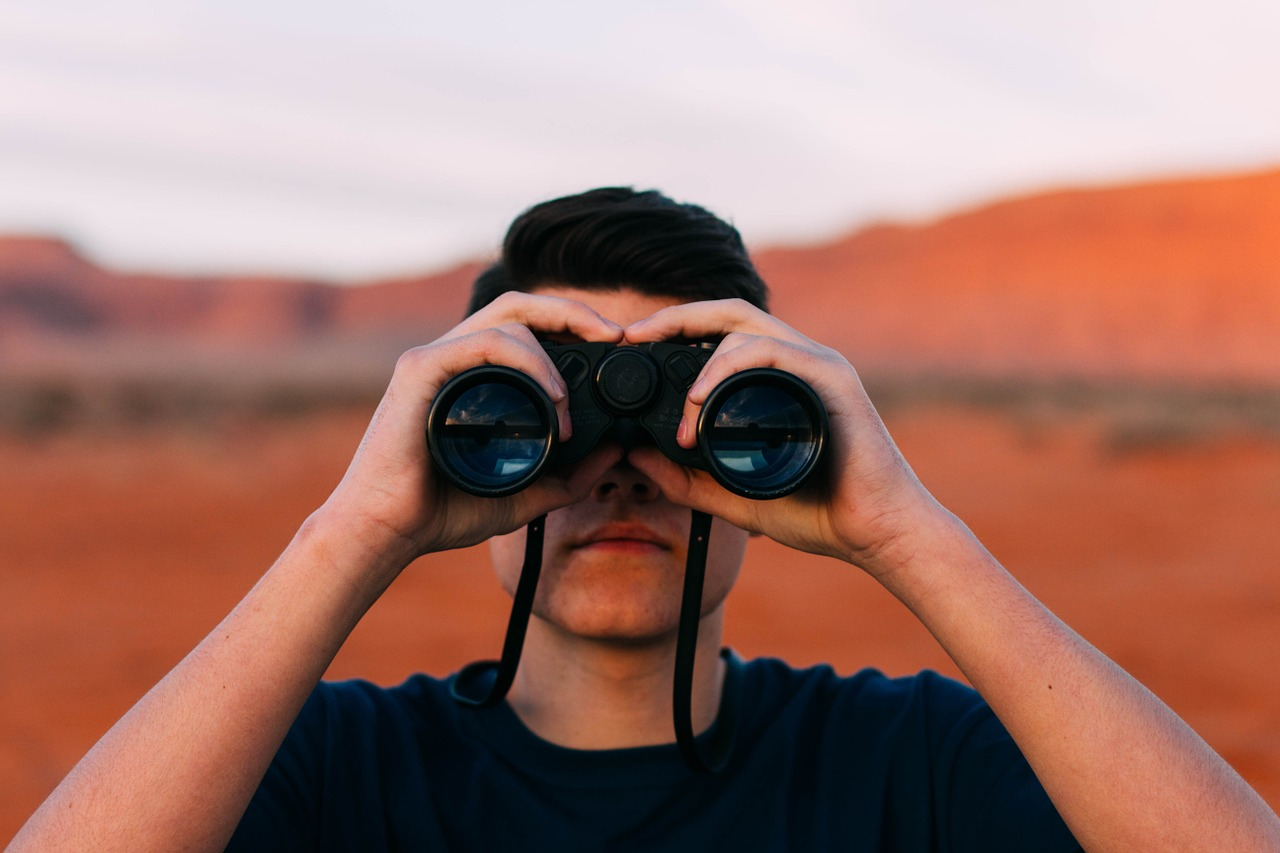 For example, I'm a developer and I'm more interested in hunting development tools that I use day to day. Most of my hunts will be related to development making the life of a developer easy. There is no harm in posting diversified hunts every day but it shouldn't become a headache gradually hunt for cool products.
Where are the places to dig for cool products?
This is the secret of every hunter on this platform. Some people hesitate to share their secret with others thinking that they may not easily get hunts when they search for it. In my case, I personally feel that digging a cool product is really very easy for me. There are thousands and thousands of products and tools out there in the Internet world. And every single day one product or the other is being launched on the Internet. So as a Steem Hunter, according to me we need not have any fear that we might get exhausted one day searching for a hunt.
In my case, I mostly look for tools that help the developers and makes life easier for the developers. Being a developer myself, I come across various tools an plugins in my day to day life. So, I still have 100 more items to hunt easily. But looking for the right quality product is very important. It is also important that the product that we hunt should align with the Guidelines of Steem Hunt platform. Some places where I find hunts are:
Major programming language websites where there will be recommended tools.
Google Play store can be a good place where we can find apps with an official website.
Looking for a specific domain from Google. For example, I would search google with a keyword "Top 20 Photo editing tools". This would list me many applications.
What would you like to see in a Steemhunt post?
I would like to see the official website of the product that is described there. Along with the official website, if there are some convincing description of the product as to why people should prefer that product, it will catch my eyes. Some photos describing the product. If there is an official video available on YouTube or something to describe more about the product, it will really be a great hunt. It will also be nice if you can provide a personal touch to the post.
What are the requirements to post cool products?
There are some set of Guidelines a user should follow to post about cool products. It is a mandatory requirement for every user to go through the guidelines and abide by the guidelines document. Apart from that, there are some basic things that are required to make a cool post:
A title that exactly matches the product name.
A short summary on the purpose of the product.
A short description of the usage of the product and how popular it is. Comparing the product with other competitive products is also good. But make your point more precise so that the description is below 1000 words.
Some cool images of the product. If your product is a tool, it is good to upload the feature details about the tool and the utility of the tool. People would love to see the user interface of the tools.
How does one get a hunt approved
After a post is made, the hunter has no actions to do than waiting. Like I mentioned above in the article, hunts are reviewed by the moderator team Moderator checks for the guidelines and approve or reject the post accordingly. If you sometimes feel that the decision by the moderator is not correct, you can provide the justification and explanations on their discord channel. It is good to make the post at the start of the day which is when lots of moderators and influencers are very active.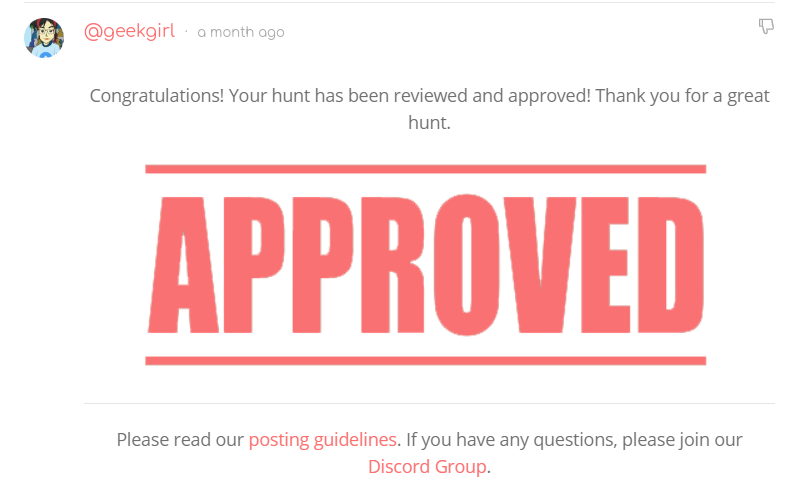 Another good way to get your hunt approved is by proving yourselves. If you are dedicated members of the community always working towards hunting cool products, your chance of approval will be faster than others because if you are regular, the moderators will know you and reach your post immediately to approve them.
How do steem hunters interact with each other?
Most of the interactions happen in the discord channel. There are other Social media available for the hunters to interact and share their thoughts. There is a comments section available on every post, that can be utilized to share the thoughts about the post. Good hunters always provide valuable feedback on the others post and receive valuable feedback from others as well. They also take time to comment and vote the comments they receive on their posts. Some of the social media platforms where Steem Hunters can collaborate is:
Of all the above, discord channel is always very active and you will be able to see so many moderators, influencers and members interacting with each other there.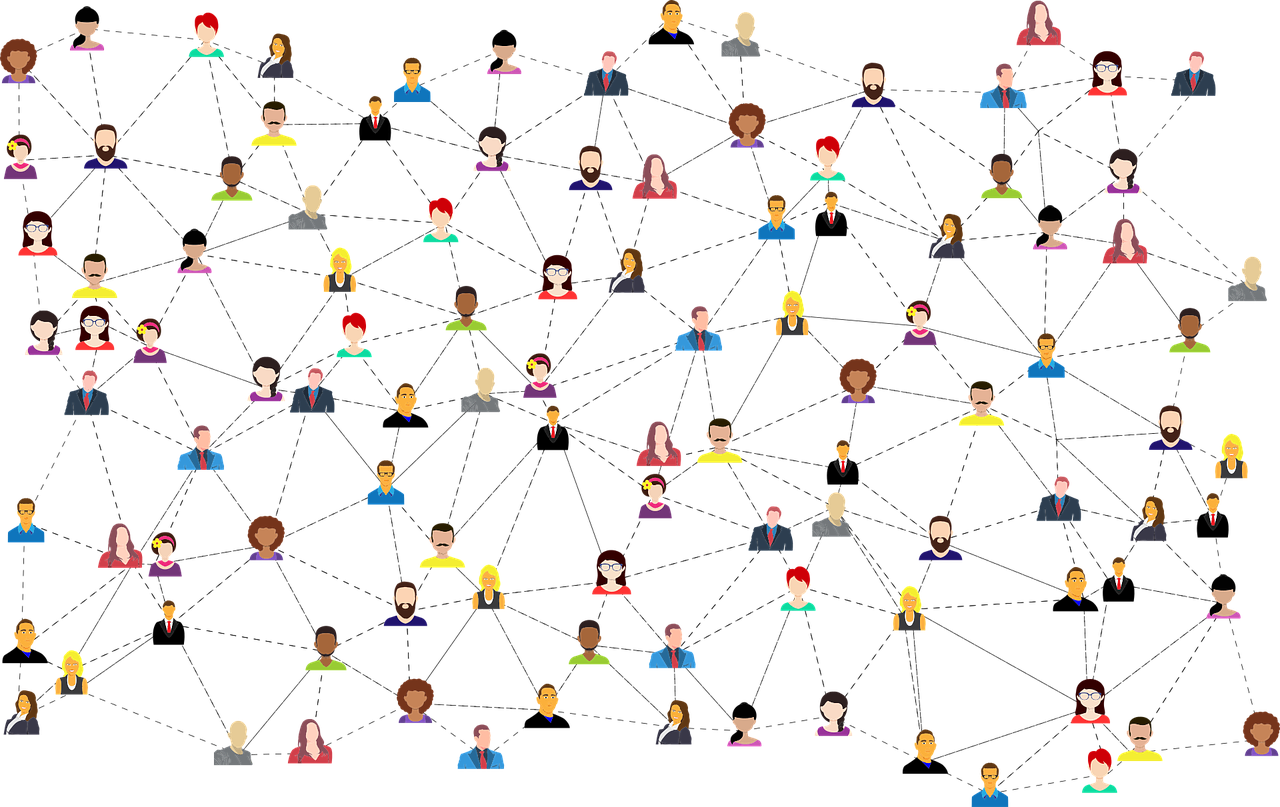 How to understand HUNT tokens?
It is quite easy to understand HUNT tokens. I would like to provide an example for those who are extremely new to Blockchain. We all play games on our mobile phones and even on Facebook. When we check those games, there will be an in-game currency in the game. But usually, those games will not be a blockchain game or a decentralized game so the in-game currency may not have any values. You get these in-game currencies/coins by playing the game.
HUNT tokens are similar to these in-game currencies but with some market value. It doesn't stop with market and trading alone but with the future plan that Steem Hunt platform is having, HUNT tokens can be of great value in the future. On Steem Hunt platform, HUNT tokens decide how much influence you have on the platform. Every user is given a User Score with which they can reward the other members and their rewards are also decided based on the user score. If you have more HUNT tokens, you will be able to have more User Score and have more influence when you vote other's posts.
How to prepare for Review hunt?
Review Hunt is the next big thing from the Steem Hunt community. Everyone is excited to know more about it and start using it. The Review hunt platform is not out yet. But we can prepare ourselves by pre-registering. You can visit https://review.hunt.town/ to know more about the launch.
At Reviewhunt, you can spread impactful review content to hundreds of tech channels such as Reddit, Youtube, and Twitter by utilizing over 20,000 blockchain-powered product influencers.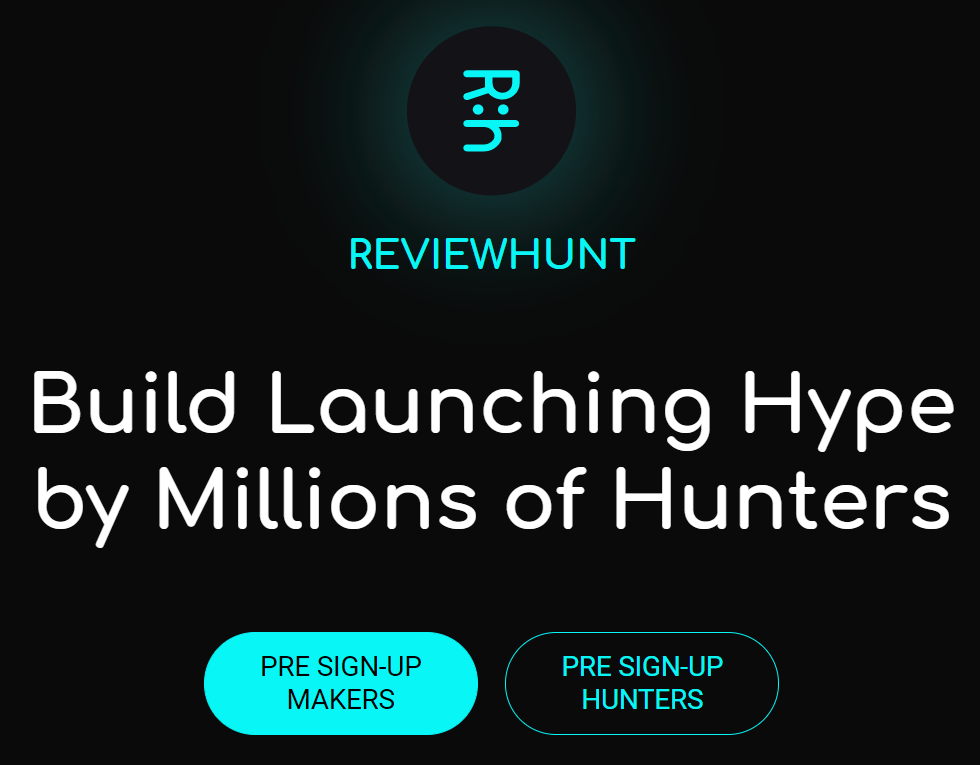 I guess I have covered most of the aspects of Steem Hunt platform. I cannot imagine I crossed over 2400 words in this article. But I'm glad that I was able to cover almost everything related to Steem Hunt in one big article.
Image Source: Screenshots from the website.