Recently when I was doing one of the tasks in the Storm Play application, I came across a game called Lords Mobile. They asked me to install the game as one of the tasks to get 9000 bolts as rewards. Before I start off with the review of Lords Mobile, I will briefly mention what Storm Play is all about. Storm Play in an app for your mobile through which you can earn some cryptocurrencies. You get Bolts for doing tasks in the app and then you have options to convert the Bolts into Storm tokens (ERC20 tokens) or Ethereum or Bitcoin. Below is the link to download and install. As it states, you can get rewards for using my referral code.
Have you checked out the Storm Play app? It's a fun and easy way to earn cryptocurrency right from your phone. Sign up with my referral code and you will get 6000 Bolts when you try it! My code is 8LTF2U. https://play.google.com/store/apps/details?id=com.cakecodes.bitmaker
Coming back to the topic, for the past few days, I have been playing Lords mobile game on my mobile phone. The game looks a bit attractive. Usually, these types of games will last on my mobile only for a few days but this one is lasting for more than a week now. It is pretty good and interesting.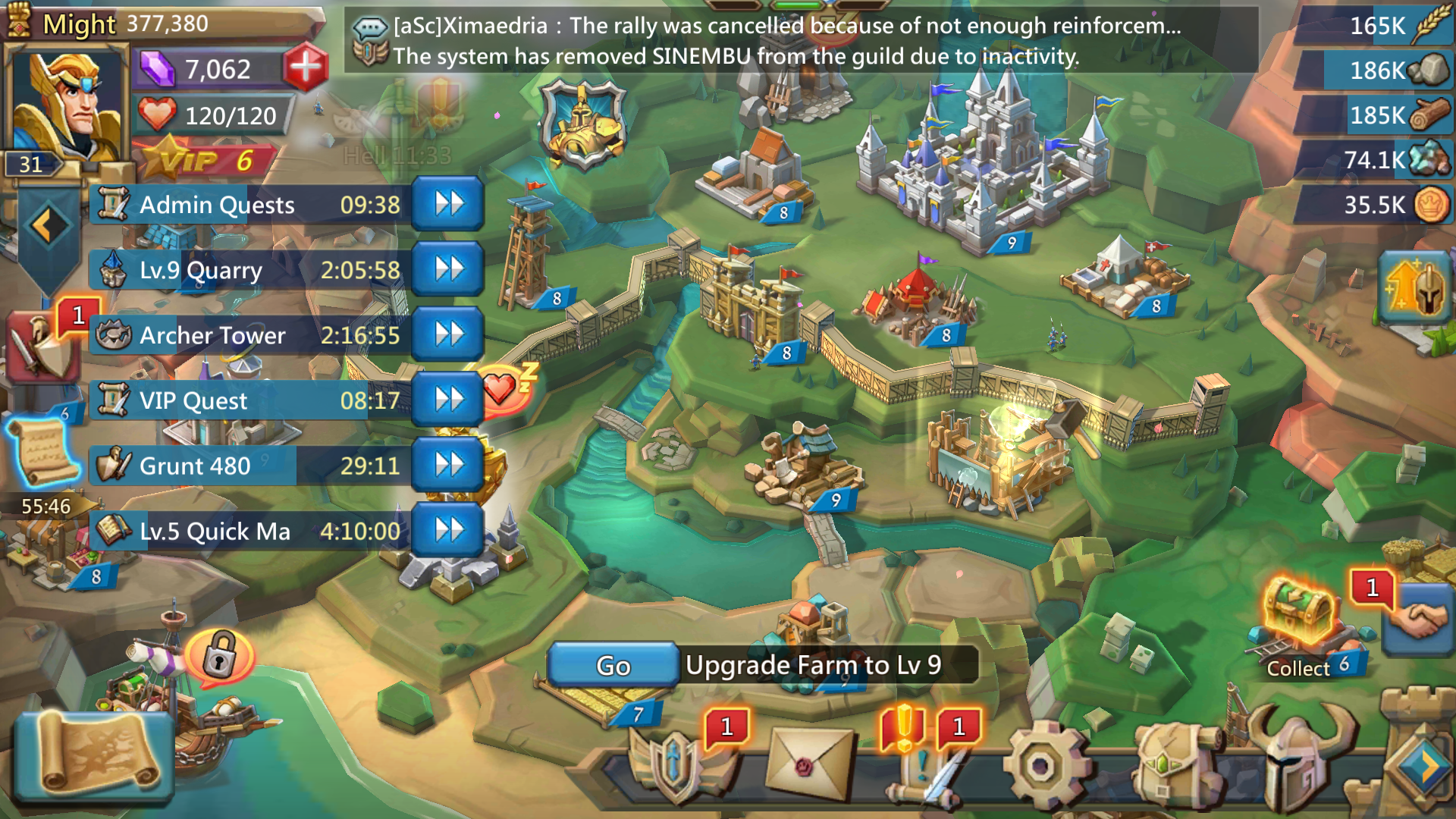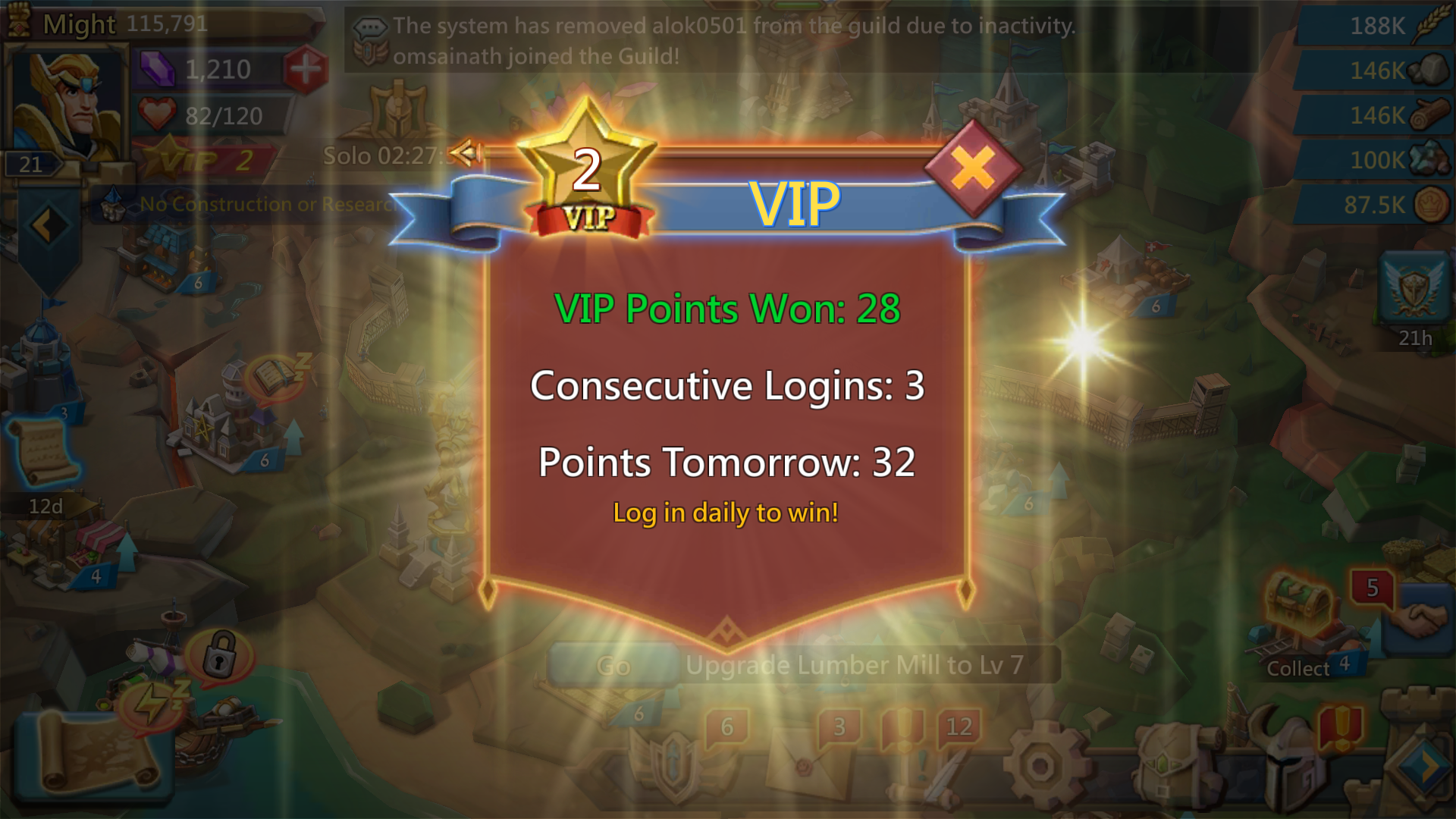 Gameplay – Lords Mobile
Their gameplay of Lords Mobile is kind of similar to the other open world MMO mobile game. The concept is very similar where you will be having your own base and there will be an open world outside where the base of other players will exist. You can battle with them, form guilds, collect resources and upgrade your castle, this is pretty much the gameplay. This gameplay is a collection of many other similar battle games that you can see online. Clash of Clans also has a similar concept where you have a base where you can produce resources and prepare troops and go for battle.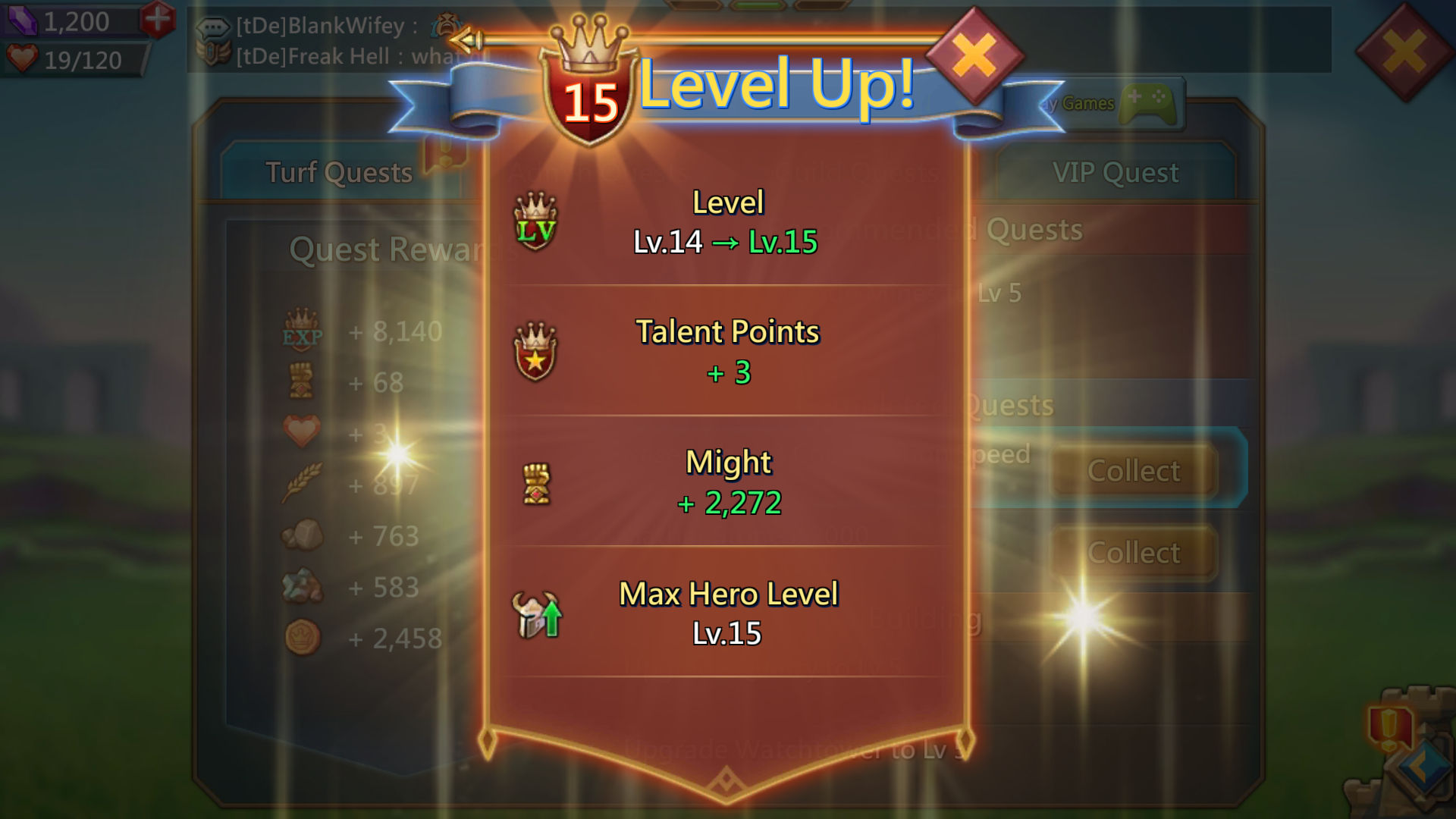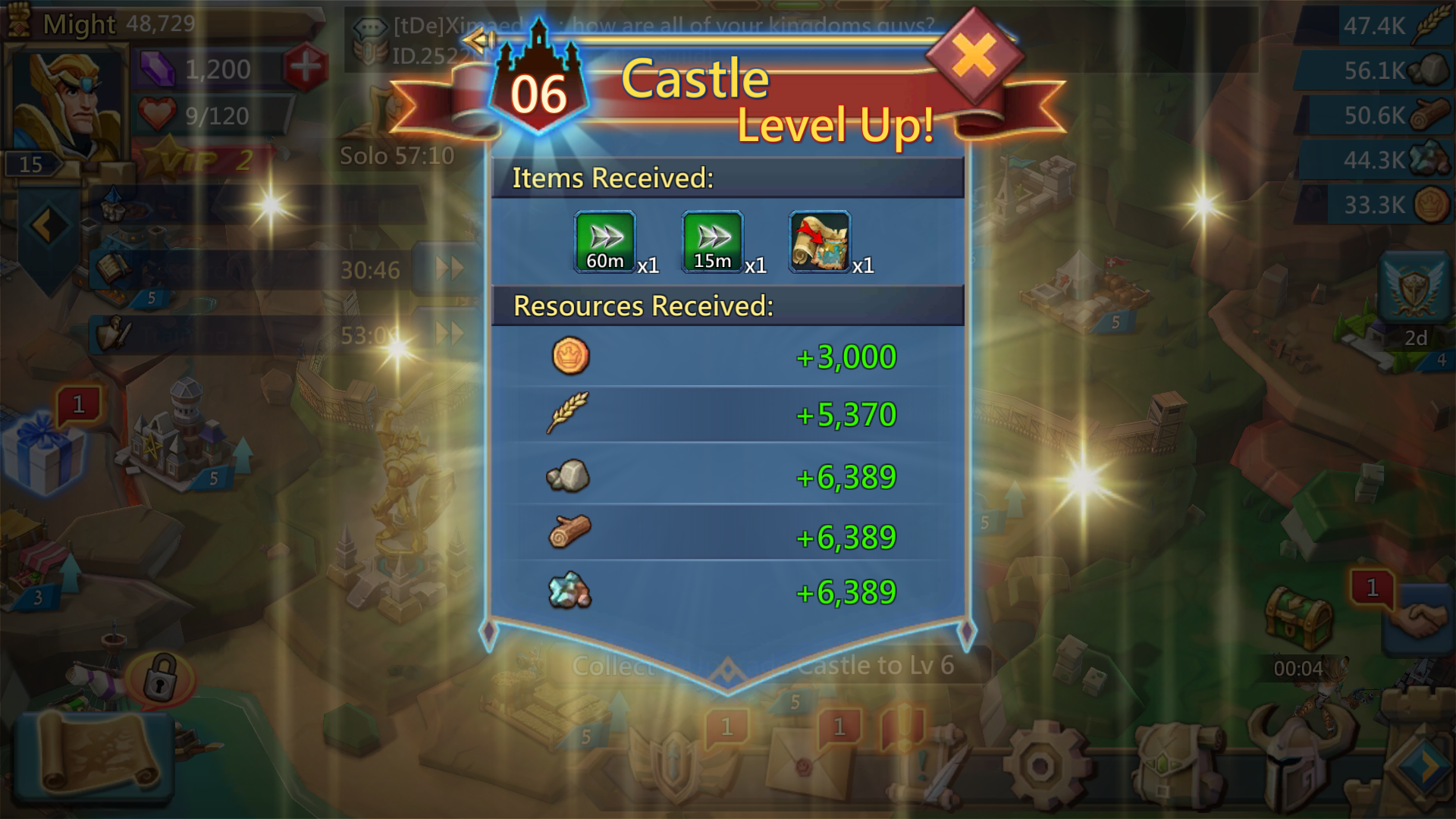 I thought I might get bored after few days but, there are few concepts in the game that keeps the game going without getting bored. So far I have been able to login to the game from the day one I started the game. I don't feel like it is enough to play this game yet. I would like to highlight some of the features of the game in Brief.
Hero Stages
You have a hero in the game who will level up when you take him for battles. There is a concept called Hero stages where you can take your heroes for battles and make them level up. Along with level up, you also get an option to equip them with some items that give them an extra boost. One thing that I love about this Hero stages is that the graphics of the gameplay is very good.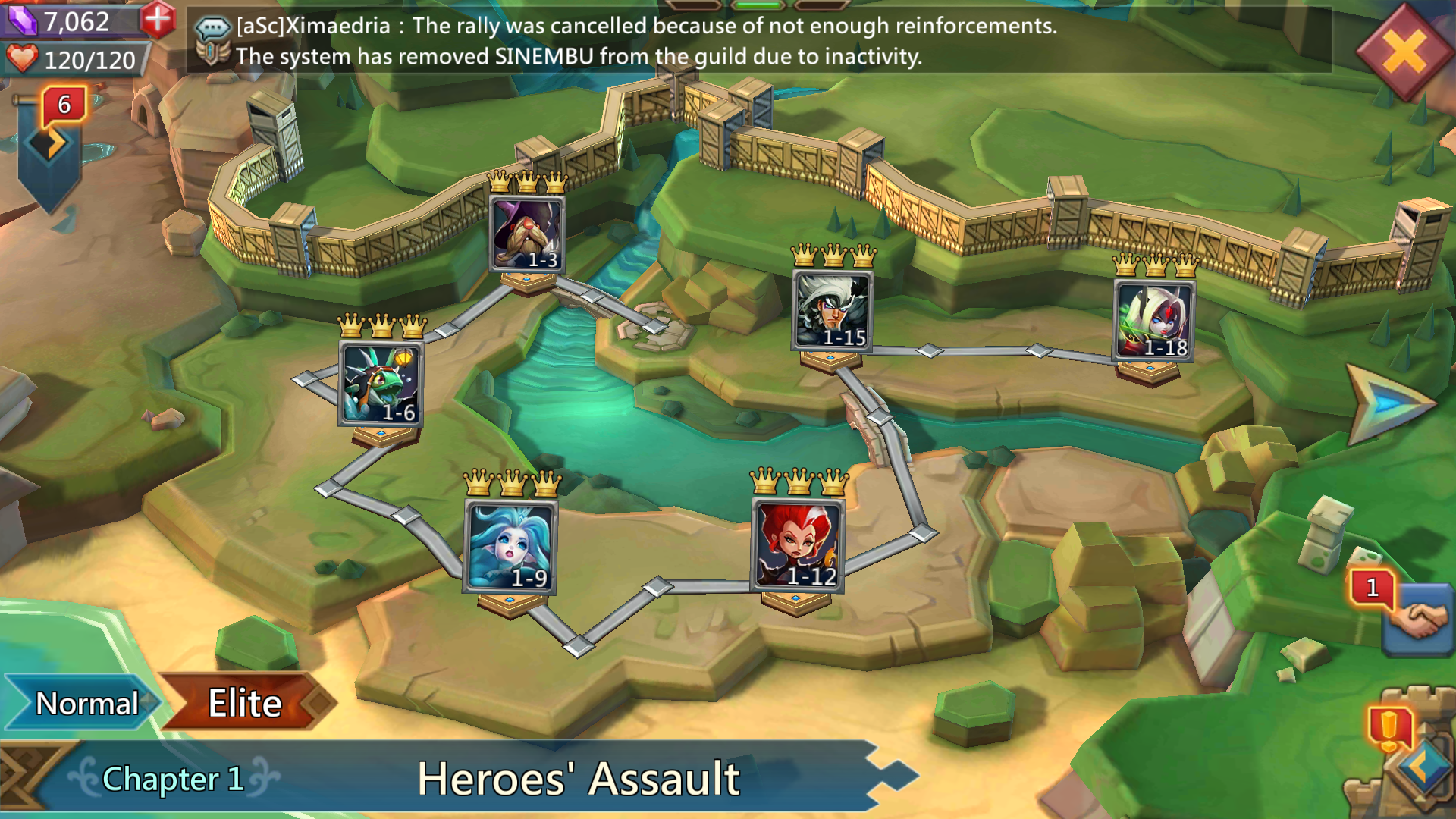 You get the real RPG experience only here. This is something that is unique for this game. There are multiple stages which you can level up and go. The option to sweep stages is also available like how we see this option in other games as well. The stages can be played in two modes, normal and elite mode.
Quests
You get tasks every day to complete Guild quests and admin quests. By completing these quests, you get some rewards that you can claim. You will be able to see what rewards you get for completing every quest.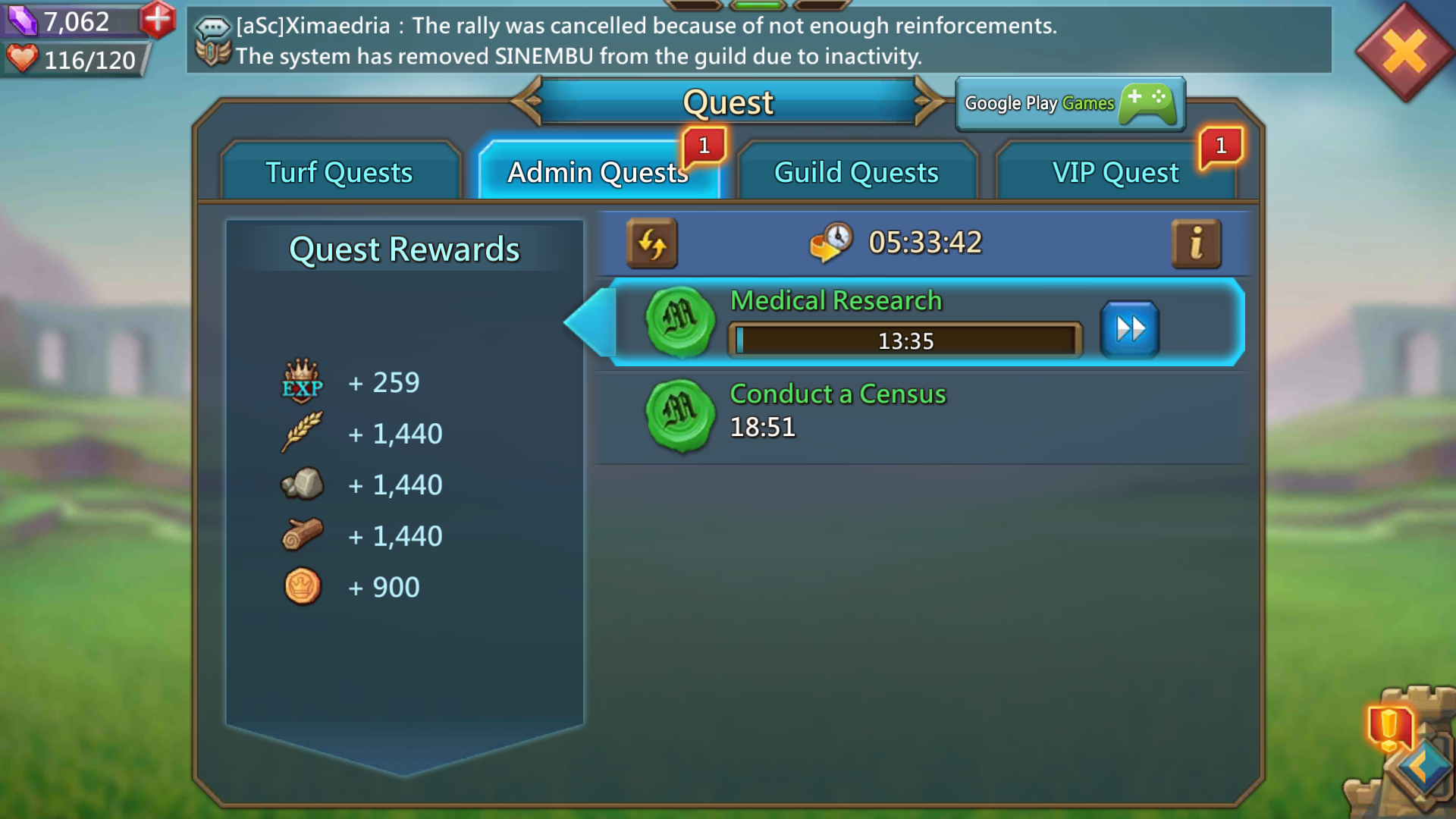 There is a count down timer available for the quests. You get better rewards if you get a higher grade quest. I guess these daily quests are just to keep the players engaged and active in the game. By completing the daily quests people get more rewards and that makes them play more.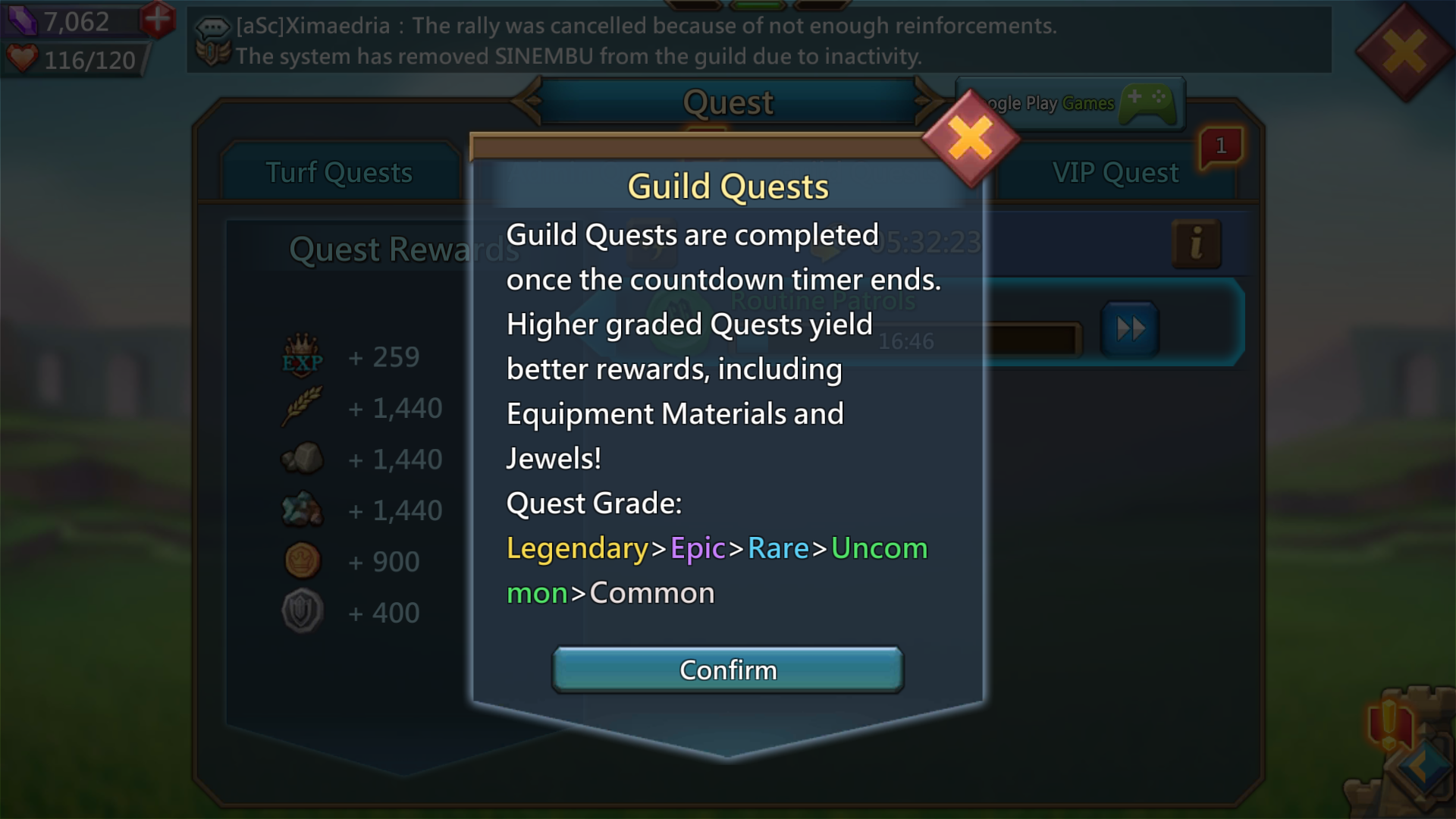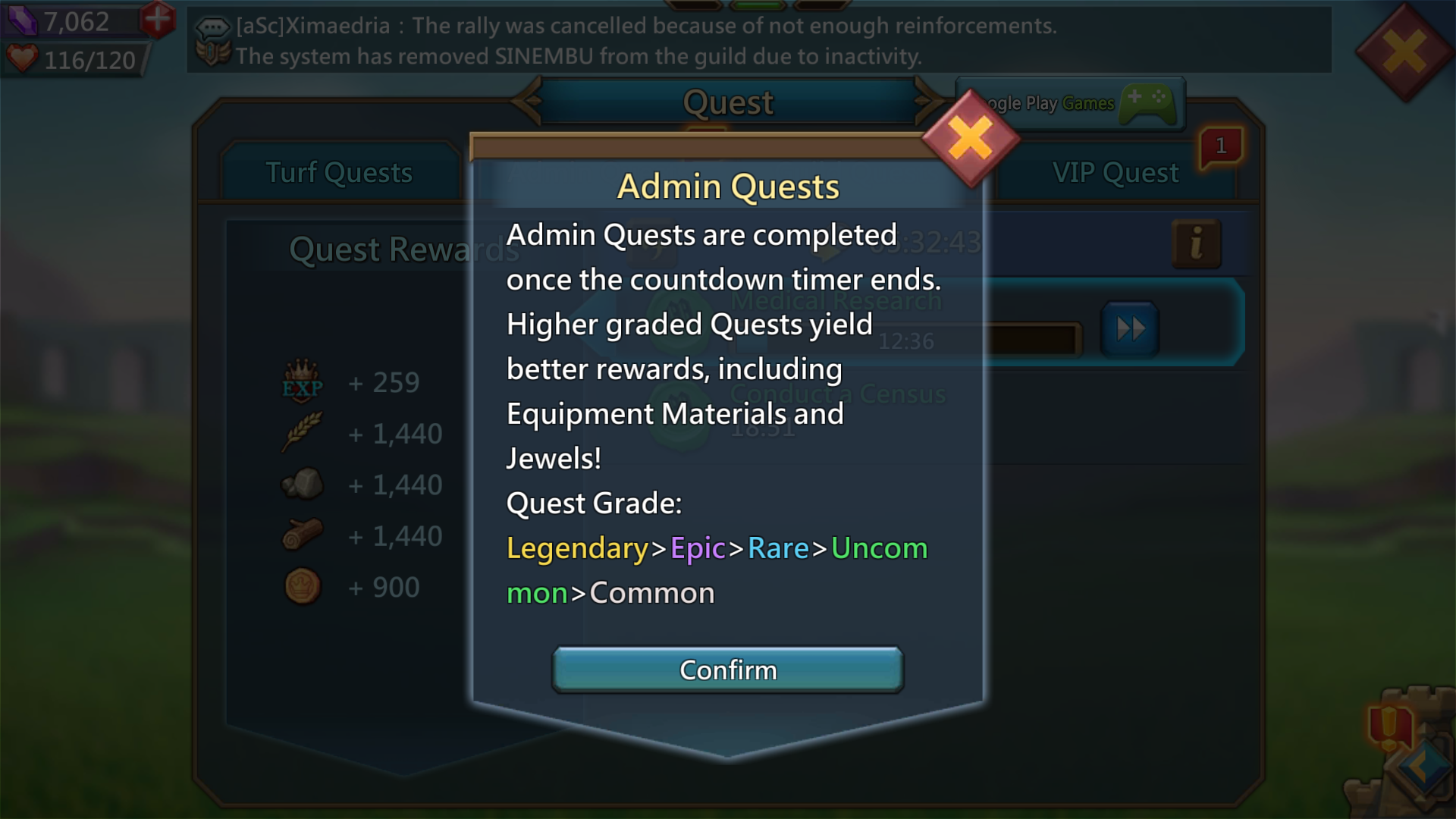 Collecting resources
The map is fully filled with resources, you can send your troops to collect the resources. Based on the capacity of the troops you send, the resources are collected. If you send good leaders and a good amount of troops for collection, you can collect more resources. But you have to be very careful with this option because when you send your troops for collecting resources, your base is vulnerable to attacks. Apart from that, you will not be able to play Hero Levels in parallel as your heroes will be busy gathering resources.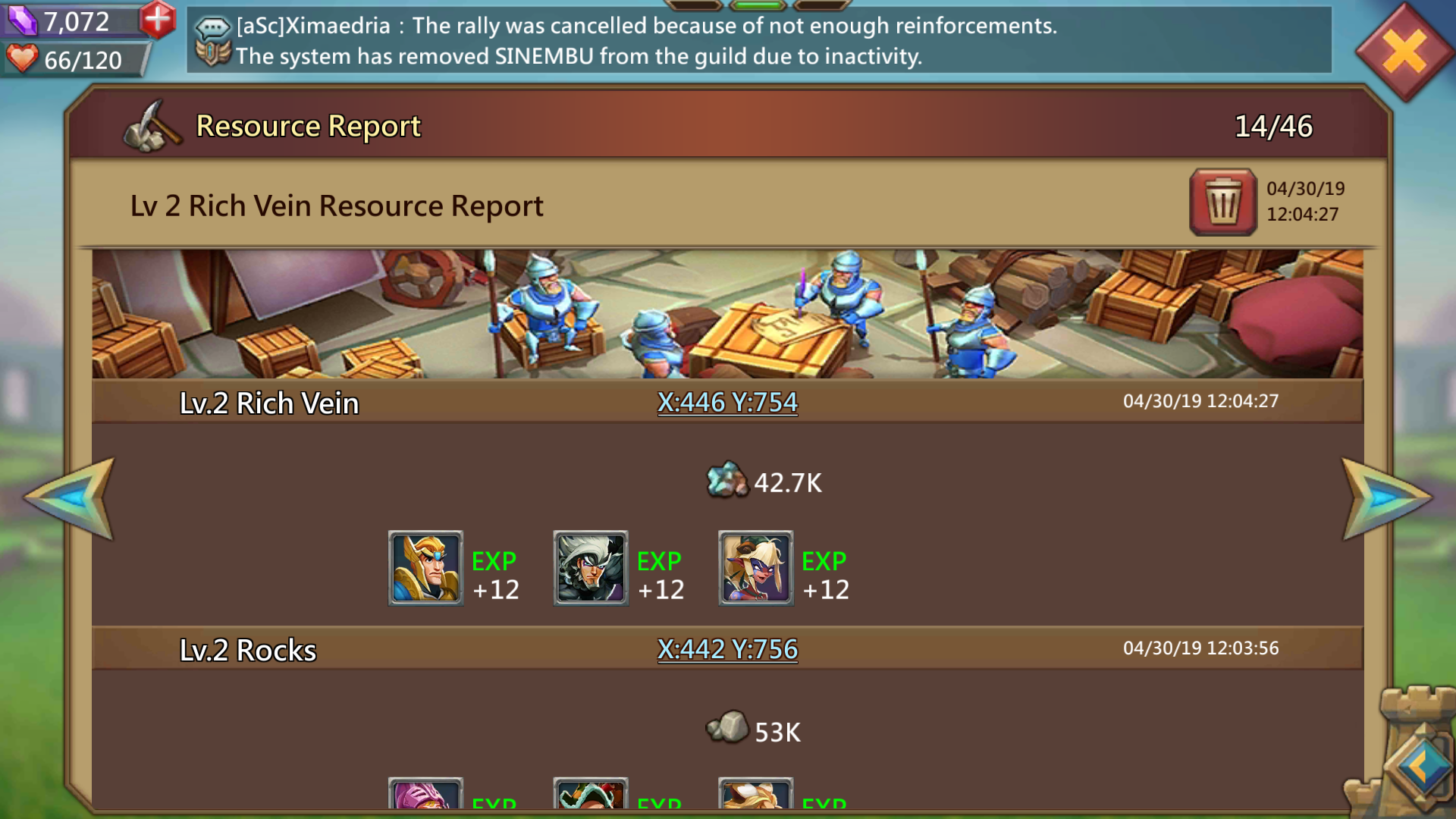 Battles
There are interesting battle options available in the game. You can either battle as an individual as a guild. If you are part of a powerful guild, you can battle another powerful player as a guild. It is ideal to move near your guild members to make battles easier. Basically, I'm not a big fan of Battles. Whatever game I play, I don't really go and hit other players to gather their resources and grow. Its been my practice and don't know why it is like that. Apart from the battle option, I find other things interesting and I continue with them.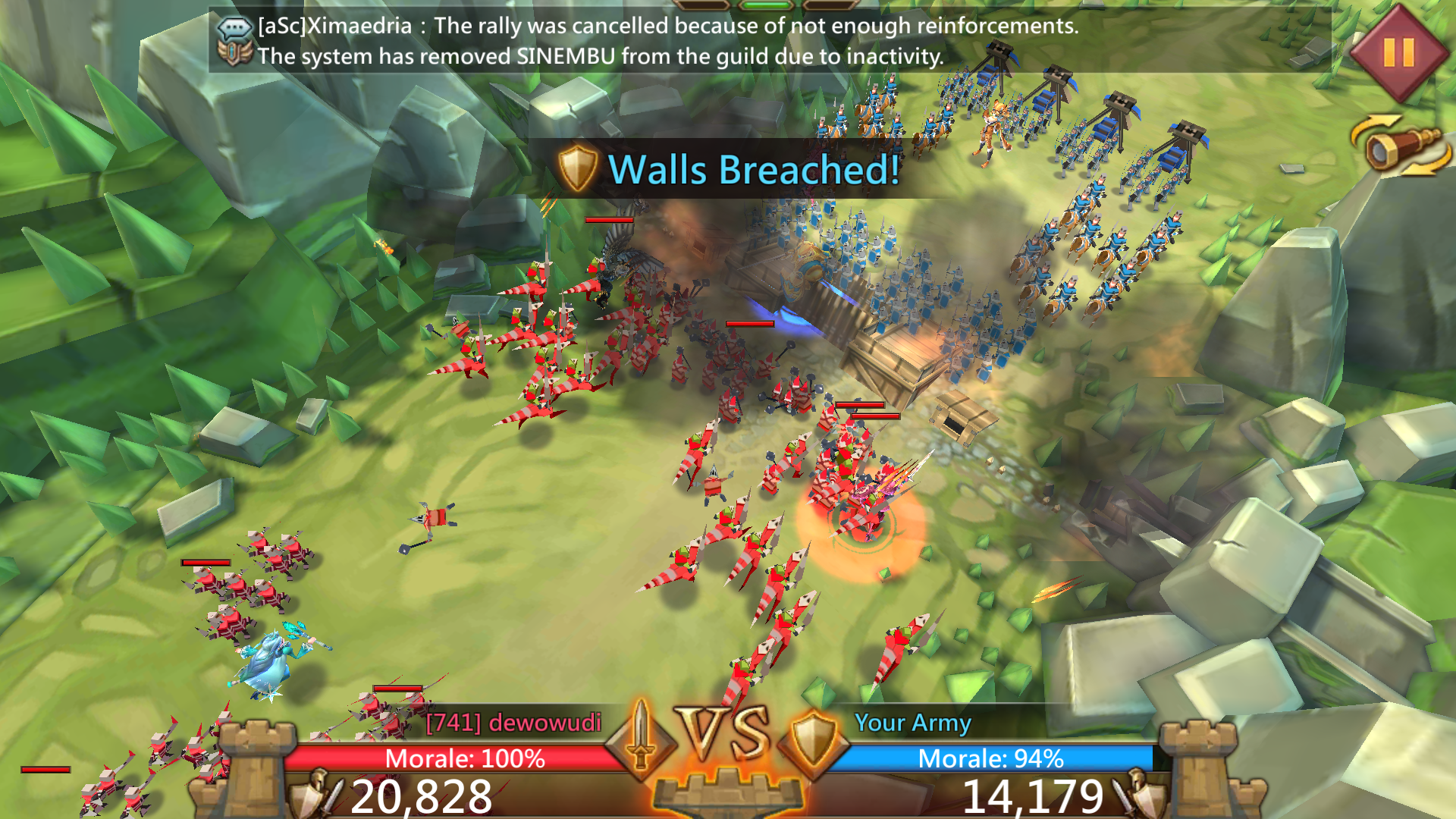 Monster Hunts
In the world map, there will be random monsters that appear then and there. You can fight those monsters by taking your army to them. When you fight the monsters, your energy will be consumed. After a successful battle, you will be rewarded with some resources as gifts. These rewards can be in the form of resources as well as rare materials that are required for upgrades.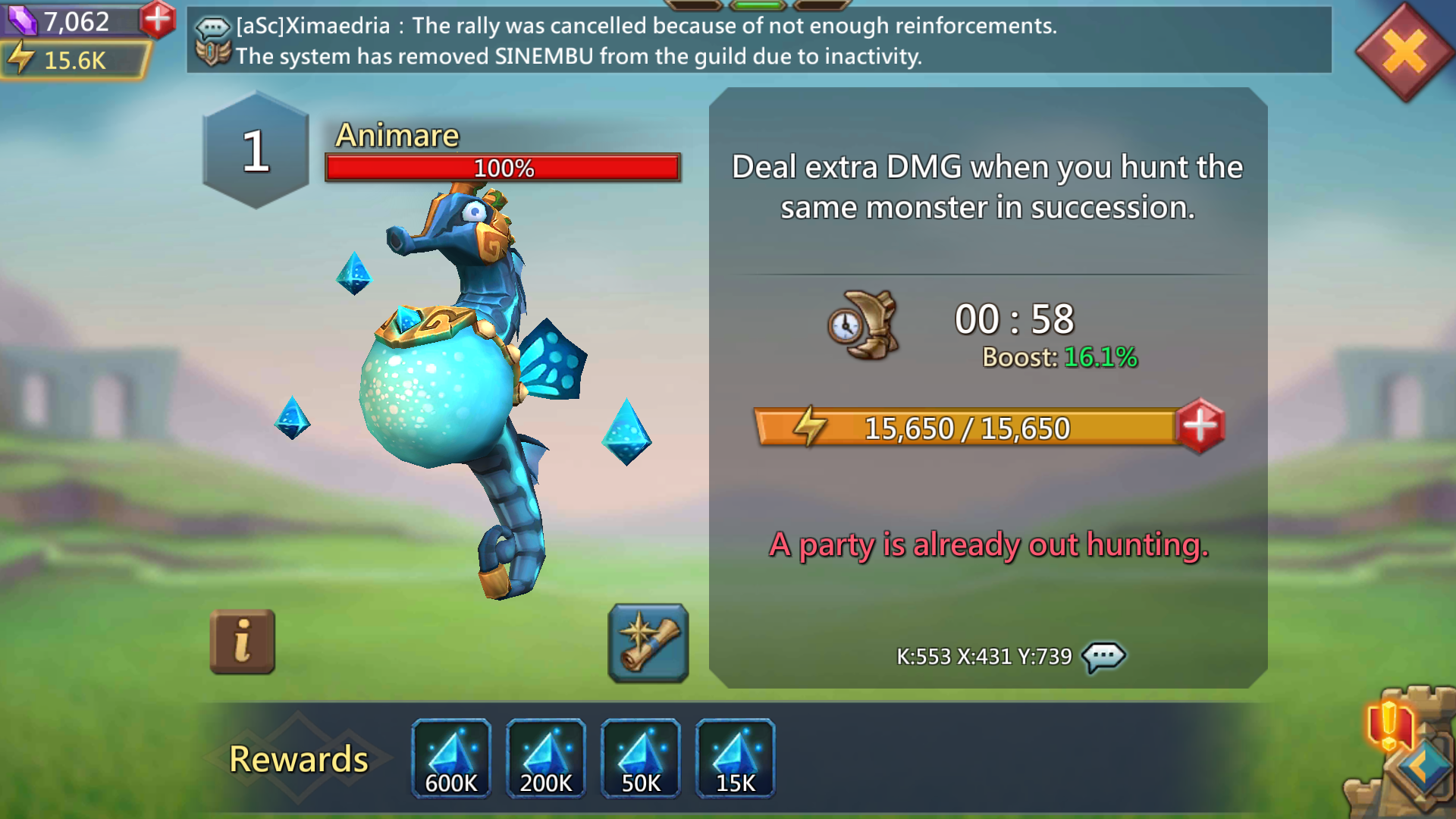 Monsters are of different levels and you have to level up your heroes in order to successfully destroy a monster. Or else you will just be doing damage to the monster. But you will be able to get rewards for even doing damage to the monsters. You can do research in the academy to ride on monsters with higher levels.
How to get this game?
You can visit igg.com to download the game on your favorite platform. I guess the game is available for different platforms. If you visit their website, you will also be able to see details about other similar games from the same company. If you are interested, you can download and check it out. A piece of neat advice is, don't get carried away by the ads you see about the games. In most of these games, the gameplay will be completely different from what you usually see in the ads.
Image Source: Screenshots from the game