Lots of changes over the course of one month and the progress is still good. I'm really excited to see how my stats looks like after a month. I'm doing this comparison after a month and my first comparison after checking my stats last month. I hope it is interesting and good. First off all, like I mentioned on my previous monthly report, I'm going to convert all my SBD holdings and Steem holdings to Steem Power to calculate my stats. A small change in that is that I have decided to have 100 Steem on my account as liquid to make use of it when there are amazing things introduced.
The reason why I came up with this decision is because last month a new game called Drug Wars was introduced for early access to the community and I realized that I did not have enough liquid steem to do investment on the game and get my returns. But I realized I had 100 STEEM on my bittrex account and transferred it back to my wallet. I'm going to maintain that 100 STEEM as my liquid steem always and anything beyond that will go to my steem power. Additionally, last month when the value of Steem was a bit low, I made a purchase of around 500 STEEM using my FIAT currency. Now it makes me think that I should have bought at least 1000 STEEM when I had the opportunity. But never mind, i'm happy that I was able to purchase at least 500 STEEM. My current stats will look like the below: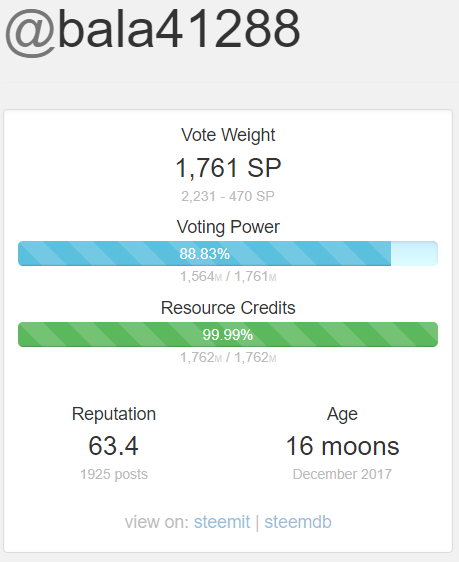 I would like to display my current stats below with a comparison to the previous month just to identify how it has grown. Like I said in my previous report, stats is something that really motivates and fascinates me so I wanted to do this to see how my growth is happening.
| | | | |
| --- | --- | --- | --- |
| Description | January | February | Difference |
| Total SP Owned | 1609 | 2231 | +622 |
| SP Delegated | 449 | 470 | +21 |
| SP After Delegation | 1160 | 1761 | +601 |
| Reputation | 63.03 | 63.43 | +0.4 |
| Followers | 615 | 623 | +8 |
| UA Score | 3.112 | 3.175 | +0.063 |
| UA Rank | 9530 | 9086 | +444 |
In the above stats, 622 STEEM power growth includes the 500 STEEM that I bought and 122 STEEM that I earned during the course of the month. Drug wars being a great contributor. It is quite unfortunate that Steemfriends.org had made their website a paid service. The fees are now 2 SBD for a month to check the stats. I'm wondering if it will be a wise option to pay for the service and check my stats or just post only the basic stats that you see in the above table every month. The only problem here is that I will not be able to see the top contributors and upvote stats of my account.
Drug Wars
The most fascinating fact about last month was that a new game called Drug Wars was introduced to the Steem Blockchain and I have been writing few articles on the same as well. I would say that it started with a big bang creating sleepless nights for the developers. The concept of the game is really good but I'm not quite sure about the long term sustainability of the game. But it is definitely a good way to make use of Steem and if we are a good drug producer, we will also be able to earn passive income from the game which is also gradually reducing day by day based on the number of users producing drugs.
Though we were all quite sad about the changes happened during the start of the month where delegation to Musing was pulled off, it is definitely a great loss for the community however things still go on and people try and find other alternatives and fit them there. Musing discord server is now like a ghost town because of no news from the founder.
I'm really happy with the progress that I'm making every month. Though the progress is a bit slow, I'm really happy for the fact that it is happening. Thanks for reading the article. Lets see how it goes in the coming months.