It was a great month and the transformation towards tribes happened during this month. Though many tribes emerged in the last month, the price of steem also drastically dropped. We all expected that bitcoin would take altcoins along with it but unfortunately, it did not happen. It was quite unfortunate that it even dropped the price of some of the altcoins. Not sure if steem was part of that tragedy but we experienced a drastic drop in steem price creating an opportunity for us to buy and accumulate steem for the future.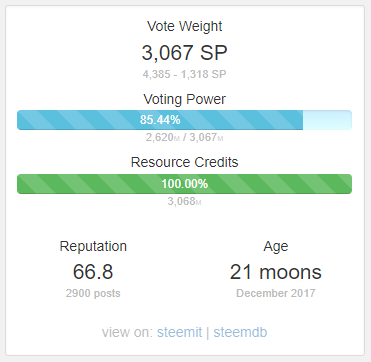 Last time when the price went really low, I missed the opportunity to buy and stake Steem and that's why this time I used the opportunity to invest some FIAT and buy some steem at a low price. Seeing the current SP of my account I cannot imagine how my SP has increased drastically within one month. I'm really happy about it. So many things happened in the past month. Looks like I have to write a separate article to describe my Tribe earnings or Tribe holdings report. Every time I write this report, I think about making the report even better and readable. But I don't find time after that. Enough talking and let's jump into some stats.
Top contributors during the month of July
I was a bit lazy last month not writing articles regularly using Esteem app and SteemPress. Some of the days I wrote only two posts where one was for Steem Hunt and another was my Steem Monsters adventure. Below are the top 20 contributors on my post in the last month. The below data is available in the blockchain transparent to everyone. Every account will have similar data.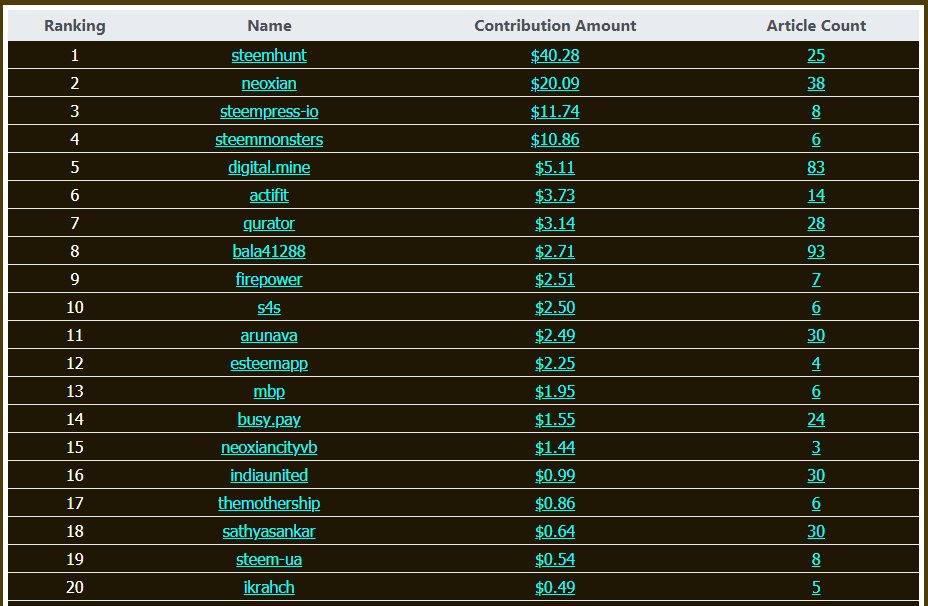 Last month @steemhunt, @neoxian, and @steempress were my top three contributors. Thanks to them. I did not write enough articles on my blog last month and that is one of the reasons why I couldn't get some decent votes from Steempress. I have resumed writing articles on my blog. Similarly, I did not write enough using Esteem App as well. The main reason for all that was that I was unable to spend time to write many articles last month. The number of articles I wrote was limited.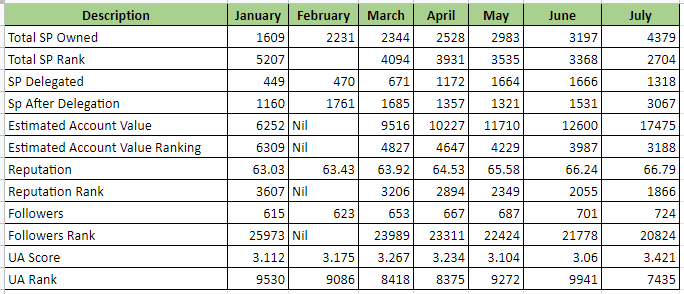 My stats for the month looks very good. It will be great if the growth on my account is like this every month. I would easily start earning decent passive income. But it is going to take lots of time for that. I have removed the difference display this month so that it looks better now. The difference is pretty obvious.

There was also a drastic increase in the value of my SteemMonsters cards. There are two reasons for that. One reason is that I did some little investment to level up my cards. Another big reason is that I got a nice gold foil legendary card from one of the quests and that card was surprisingly worth 130$ in the market. I'm not getting a good feeling about the Steem Blockchain even though the price of Steem is not very great. One reason is because of the Tribes that are emerging out of the Blockchain. I will try to cover my stats on Steem Tribes in another article.