It was indeed another interesting month with lots of progress and lots of learning. Compared to the last month, I had been a little lazy this month without spending enough time every day to write articles. Because of that my earning would look a little low this month or at least not something that I expected it to be. Every time I write a post to describe my stats, I usually sell all my SBD for STEEM and power up my account before I'm ready for this post. But I'm not going to do that anymore from this month onwards. The reason is that I hold some liquid SBD and liquid STEEM to purchase some things instantly or move it to exchanges to buy altcoins.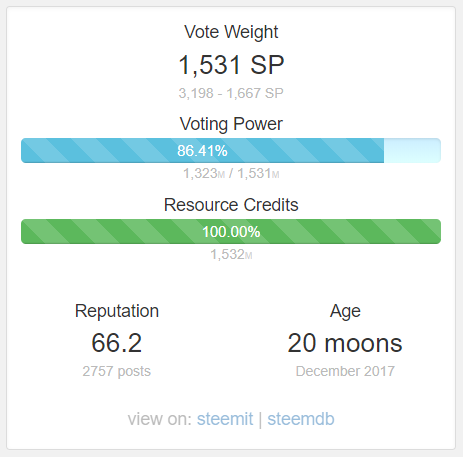 I recently sent 70 SBD to Bittrex to purchase some altcoins. I have bought 0.5 LTC with that money. It is expected that LTC will grow dramatically in the next few months, so I wanted to make sure that I hold at least a little LTC on my account. I will try to write a separate post on the altcoins that I currently hold.
Top contributors during the month of June
It is always exciting to see this report every month. I feel really motivated and energetic to see my account growing. Below is the top 20 contributors on my post in the last month. The below data is available in the blockchain transparent to everyone. Every account will have a similar data.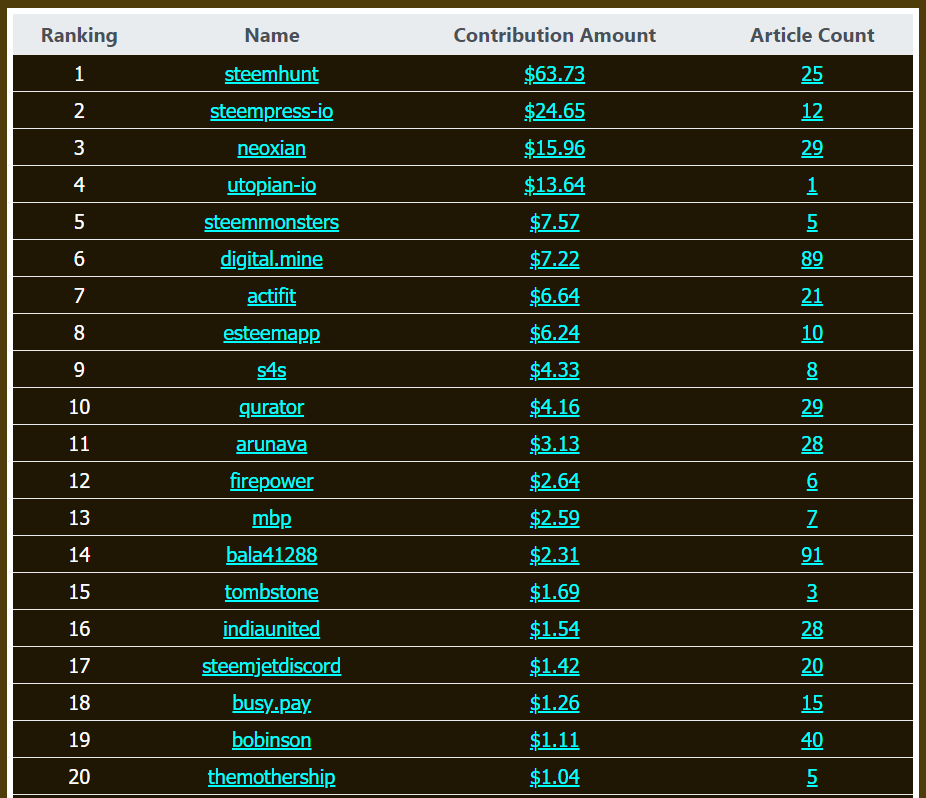 I'm quite glad that Steemhunt was the platform which I have used regularly in the last month. I had been very lazy in writing articles regularly on my blog to receive Steempress votes but I guess I managed to somehow receive 12 votes from Steempress-io. At the same time, I was also lazy to write articles using esteem app which I was very regular last month. I also made a post for the Utopian community and received a vote for it. I wish to write more and more articles for the Utopian community in the future.
Managing time is the one big challenge right now because I already write around 5 articles per day for different communities and dApps. If I will have to write articles on other platforms, the number of posts per day will even increase further. I will try to take things slow from this month onwards or just stick to my plan because I did not contribute properly in the last month. I don't want to feel sorry for that in the future.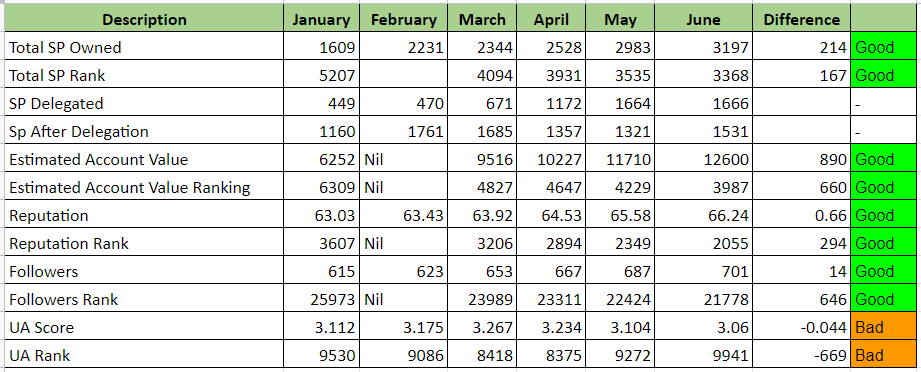 I'm not sure if I should still continue to delegate to UA for the UA score and to receive an upvote from them. Because in the last one month, I have received only a total of 0.88$ vote from the Steem UA account. My other stats looks decent and I have to work still hard to progress further.
Apart from the above stats that I display here, I have to admit that for the past one month, I have been purchasing lots of steemmonsters cards from the market. My stake on Steemmonsters account is also around 67$ now. Though the value keeps fluctuating based on the market price of the cards, it is pretty decent and I'm able to progress well in my steemmonsters game.

You will also be able to see steemmonsters as one of the upvote contributors on my account. The reason is that I have been sending some DEC in exchange for an upvote the account. I guess that is another way to earn some revenue for the posts that I make about Steemmonsters. Last month, I also purchased some Hunt tokens to boost my user score and it also turned out well but unfortunately, things are not good with my user score for the past two days.
Hope things will get settled soon. I have to maintain the same momentum this month as well. Thanks for reading my monthly report.