It has been a great month. Lots of things happened in the last month. I'm really excited to see my starts. Let's start off. First of all, I would like to mention that during the last month, I entered the Steem monsters. It has been a great experience to play Steem Monsters. After joining I even regret that I should have started playing this game long back. Never mind, I'm happy about the progress that I'm making today and I would like to thank @mango-juice for sending me some cards as gifts. Now let's jump into the stats. As you are already aware, I always retain 100 Steem as a liquid in my account and power up anything beyond that. This time as we are getting the rewards in SBD, I have planned to retain a minimum of 5 SBD as liquid and power up the remaining.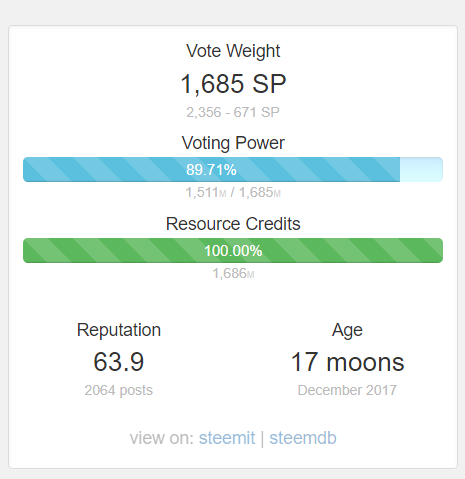 Last month when I was preparing the stats report, steemfriends.org website was not available by then. And it looks like the website is now back again. Thanks to the creator. Compared to the last month, it looks like my rewards have reduced and the number of curators on my post have reduced. I did learn a lesson in the previous month about the importance of manual curation. If I continue to do manual curation, people do that back to me and upvote my posts. Below are the top contributors on my post in the last month.
I also got a good review from some of my friends saying that I write well. But the only fact is that I have to maintain quality and consistency. So far, I have not made any shit posts without enough content in it. I make sure that all my articles are a minimum of 400 words. Sometimes if I make more than one post per day, the word count can reduce. Otherwise, I try to maintain quality.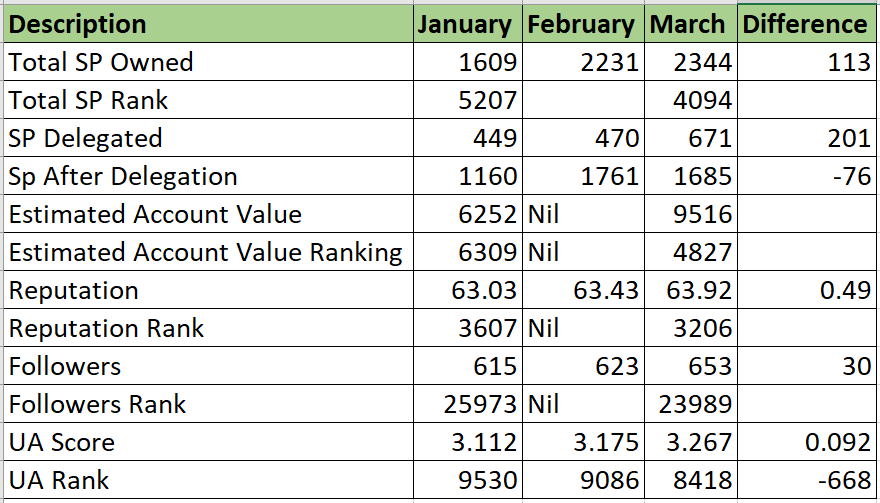 As expected my progress was not really very great compared to the last two months. I did spend around 10 SBD this month to start Steem Monsters game and I also made few purchases there. It is also one of the reasons why my profit marigin has reduced this month. Like I mentioned in the previous paragraphs, I did learn a good lesson from being a part of few curation trails. The system of Upvote for Upvote is not my thing and it didn't work for me. I was banned from one of the curation trail and the person who was managing the curation trail was also very rude. I made up my mind to be just honest and continue with the way how I have been progressing so far.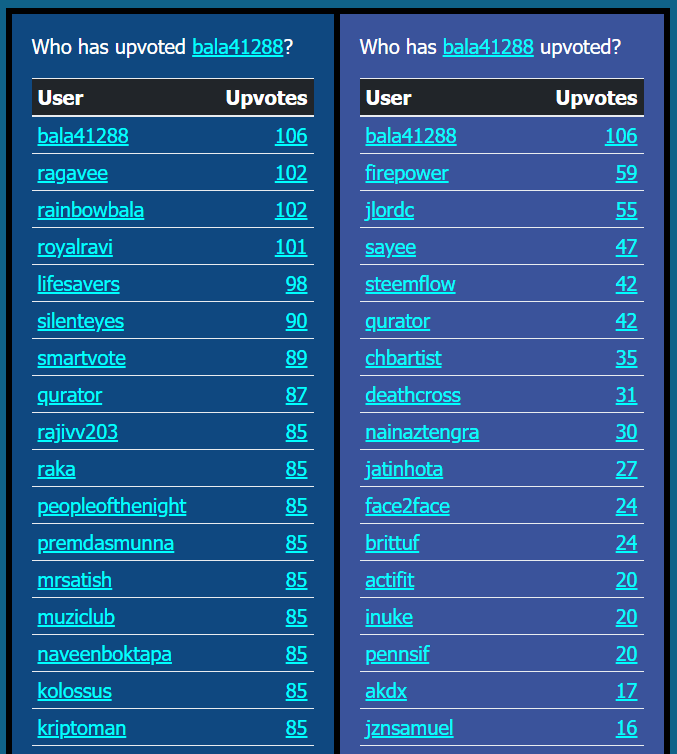 This has been my upvote stats for the past one month. I'm a part of two curation trails and thus I have delivered my votes to people who are added as a fan base in those trails. I'm also part of @naturalmedicine curation trail and thus I have upvoted some of the awesome writers who contribute to the community. My drugwars experience this month was not really so great. Not just for me but for many people. My total SP has increased only by 113 in the last month, which is not very great. I'm looking forward to increase my SP as much as possible in the coming months. I'm hoping to see a good progress in the next month at least.