I'm really enjoying the gaming experience that Steemmonsters game gives in spite of being a browser game. Compared to other games in the blockchain, steemmonsters is really an enjoyable game. My only concern with this game is that I don't have enough time to play the game. But I somehow try not to miss the reward cards that I get daily from the game. Though it is difficult to get past the Silver level, I try really hard to get good ratings as well to level up in the league.
Today morning after I played few games on steemmonsters, I was wondering if I should invest some SBD or Steem to buy few booster packs. From the reviews that I read online, people say that booster packs are really good in helping the players get some good cards to sustain in the game. Today I was very curious to buy my first booster pack by spending 2$. The outcome was not very convincing because I only got 1 rare card from the booster pack and all other cards were just very normal cards which I already have. So, I was not very excited about the pack.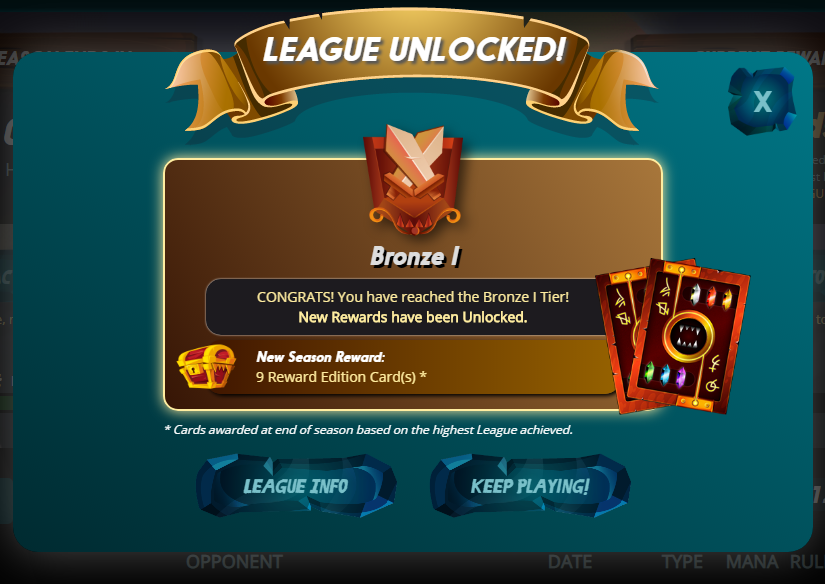 Entered Bronze I
After this new league start, I have been playing a lot of games but unfortunately I couldn't even make it from the Bronze I level. If I win 2 games, I will end up losing around 3 or 4 games. It continuously went on a loop. Now I will be able to get 9 cards for sure towards the end of the previous league. I'm quite happy that during the previous league card distribution, I received a legendary card. I would like to brief a little about that card.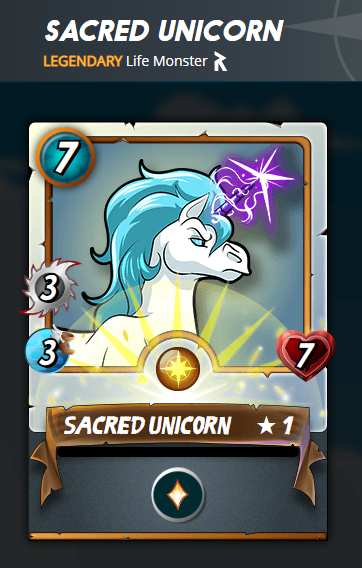 Today when I was playing a few ranked matches, I used this card and the outcome was really amazing. The best part about Sacred Unicord card is that it has a self-healing capability and the attack is also 3 and when it is boosted with a perfect summoner, it can even become 4. I was really convinced by this card because it did help me win a few battles with ease. I wish I get some more legendary cards like this from the daily rewards.
Now for me to progress further and reach the next league level, it can take quite some time. But I'm really enjoying the ranked matches to climb up a little. I guess for someone to find this interesting their journey should have both wins as well as losses. If it is continuous wins, they will not find it interesting and sometimes, they might even get bored.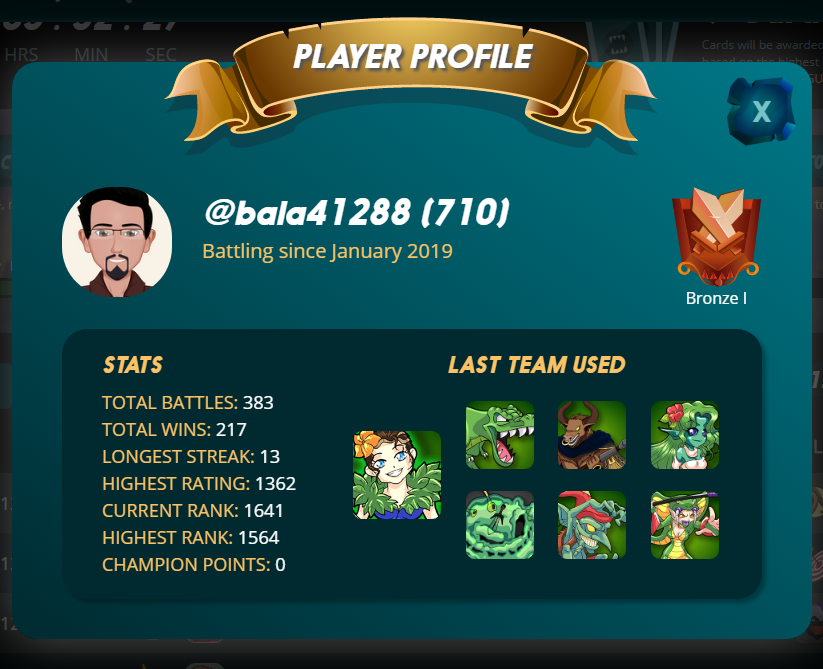 When I initially started playing the game, I used to wonder a lot by seeing the stats of other players. I was wondering how people managed to play thousands and thousands of ranked matches. Now I understand there is no wonder about it because I cannot imagine that I have played 383 ranked matches without even being very active in the game. If at all I had better cards and if I had been very active in the game, I would have easily crossed more than 1000 in a months time. It is all dependent on the experience that people get by playing this game.
Image Source: Screenshots from the game.