Today we were having a productive conversation in the City discussing how we can make the city better and how we can increase the value of NEOXAG tokens. I was interested to increase the burning so that we can match the supply some point in time so that it increases the value of the token. But others were having a different perspective and I understand that we will definitely need some better use cases to increase the value of NEOXAG.
During the discussion, Mr. Dragon mentioned about the pump that happened today. The price of the tokens increased by over 133% today taking the value of the token to 0.06. I was really surprised and happy to hear this. I have seen this price only during the initial days of NEOXAG. Glad to see the same price again. Though there are still many dumpers, the price is quite stable where people make use of this opportunity to buy more tokens and stake them so that it will be useful in the future. From the looks of it, Koreans are more involved in purchasing NEOXAG tokens. We spotted a few Korean traders who were trying to buy and sell the tokens.
Already for the past few days, I have been noticing that the account bee-commerce is buying lots of tokens. Though it is a strategy for trading, I'm happy with the fact that there is at least a positive movement in the market.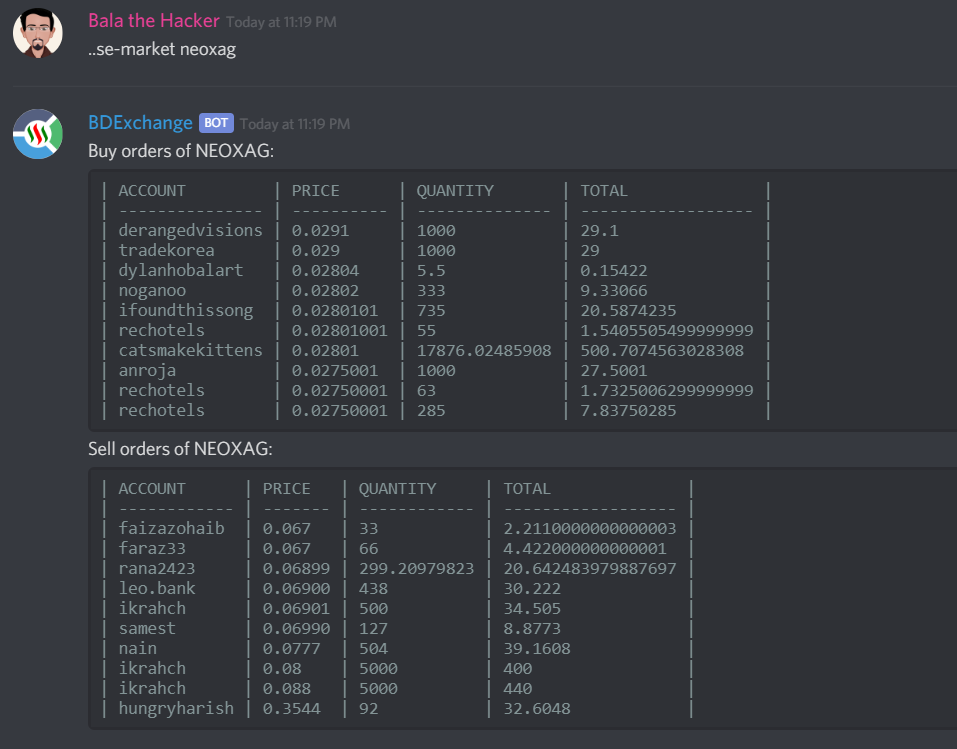 Why is NEOXAG a good investment token?
We are already getting recommendations to buy and hold several Steem Engine tokens. When we get to see lots of tokens, we have to first understand what use case these tokens have and how it can be a great opportunity for the future. I would like to highlight some of the factors that make me believe in this token.
I'm currently one of the top holders of NEOXAG token. I currently in the 7th position with over 150000 NEOXAG stake.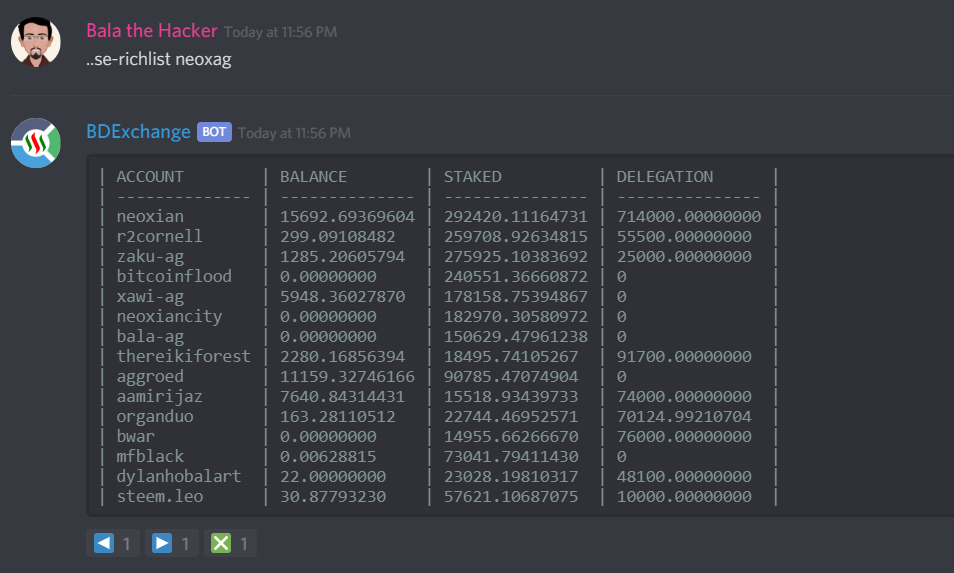 Though most of the tokens were initially airdropped to me, I have been very responsible in staking and trying to get some projects and use cases for NEOXAG tokens. Recently I developed a discord Bot called Bounty-Bot that helps in doing giveaways in discord. The bot has a subscription service for which NEOXAG is being used as the transactional token. As all the tokens are pegged to STEEM, there is no point in collecting the subscription fees in multiple currencies.
There is also another project that is still under construction called Kani Bot that sends notifications about Steem Engine transactions. I have the bot already live but haven't made an official announcement post yet about the bot. I'm planning to improvise the bot little further before I can make some announcement. The subscription model for Kani Bot is also using NEOXAG tokens.
Another important thing that I like about NEOXAG token is that it is a token being issued by Neoxian. I personally feel very happy by the way he handles the City with his own rules. By the level of maturity he is having, I really feel that we will be having great use cases in the future for NEOXAG making it a good investment. Already all the bank transactions are accepted in the form of NEOXAG tokens. This creates yet another use case for NEOXAG.
Conclusion
I'm not going to give any financial advice here because nobody knows how the market can turn towards us. The price of STEEM has also decreased a lot and have not seen a pump for a few months now. But IMHO, I really like the way in which Tribes offer good wrapper for the Steem Community. The problem that we have with Steemit user interface and other aspects of steem is addressed to some extent after the introduction of Steem Tribes. With the philosophy we have in Neoxian City, I believe the moon is not very far for NEOXAG tokens if there are some great projects in the future that can be a good use case for NEOXAG tokens. This is just my personal opinion. You can do your own research and invest accordingly.