Pubg is becoming one of the favourite games for most of the people now. They have even introduced lots of new features. Soon they are planning to introduce a new map, a new vehicle and new weapons in the next release. This will definitely make the game interesting for everyone. Already pubg fever is everywhere. Sonhok which is going to be the new map is a forest region. It can be very attractive to play on that map. People who see videos of the map in beta gameplay on youtube, find it very interesting. They really look forward to having the map soon.
Pubg is a Battle Royal game and people prefer playing pubg more than other Battle Royal games. There is definitely a huge fan group for Fortnite as well but people prefer playing pubg because it gives a realistic feeling compared to that of Fortnite.
Why I don't feel like playing Fortnite?
Fortnite is a good competition for pubg. People who play pubg are most likely the ones who hate Fortnite. There are quite a few people who play both pubg as well as fortnite. The main reason why I hate playing a fortnite is that it has lots of fantasy elements. Though both the games are not realistic, to be honest, fortnite doesn't give me a good feeling. I have seen a few videos on Youtube and have even heard some of my friends explaining about fortnite. Though all the concepts are same, it is somehow not convincing for me to play fortnite instead of pubg. To be honest pubg itself is not a big thing for me because I play even better strategy games like DOTA 2. Though pubg is in a different genre, I prefer playing Dota 2 over pubg. I go for pubg only if I'm stuck somewhere outside and I don't have anything to do. Because of the comfort that I can play the game through my mobile. Whatever it is, I don't think I will be exploring fortnite in the near future. Not a big hatred but for now I don't feel like playing the game with such fantasy in it.
Winner Winner Chicken Dinner
For people who have not seen Pubg, this can sound funny. The phrase "Winner Winner Chicken Dinner" is something exclusive to Pubg game. Today I won a solo game in pubg and got this title. That is what made me write this post today. I'm not sure if it is an easy thing to win a game here or not. I have seen lots of pro players in the game with good reflexes. I'm not that professional but I'm quite happy that I was able to be the #1 among 100 other players who joined the lobby. Whenever I play as a team, it becomes quite challenging but when I play alone it is something like I have to shoot every enemy so I was able to win it a few times.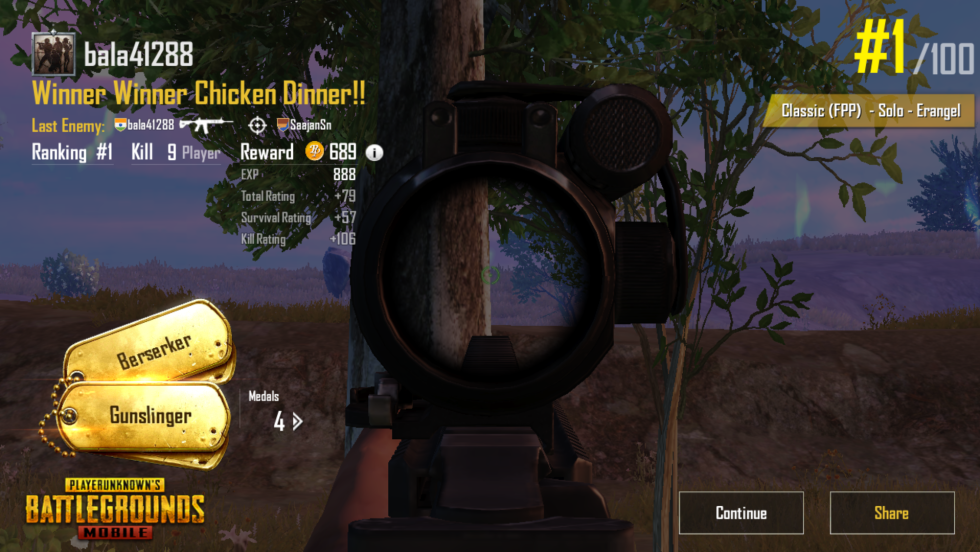 How people are going mad with Pubg?
Though pubg is a good interesting game for people, there are lots of people who are ruining their real life because of pubg. It definitely creates an addiction. Some of my friends even play the game if they are in office. Some people have stopped interacting with their wife and family and have started to focus more on playing pubg. In a few houses, both husband and wife team up and play pubg. I have even seen lots of female pro players joining the game. For some people sleep cycles are disturbed a lot because of pubg. But thankfully I'm not into that level of addiction yet. I only play the game when I really have nothing else to do or I need some relaxation or diversion to my mind. I have seen lots of players from India as well. There are many facebook pages that share funny videos about pubg. The word is spreading and even people who are not a big fan of games want to try it out.
If you are someone who is really interested in games and would like to try new games like this, pubg is worth a try. If your phone is not a high-end phone, you can even try the lite version of it.


Hope you enjoyed reading the article. Please share your views in the comments section.