I'm really excited to share my happiness with you all. I have completed 1 year in steem blockchain as of yesterday. The journey was really wonderful. More than the learning I made here with respect to blockchain and cryptocurrencies, I have gained so many friends with a good heart. It was a really interesting journey so far. I would like to traverse you through my journey so far on Steem Blockchain. Exactly 1 year before I was looking for an option to make cryptocurrencies instead of investing on them. I knew people were recommending mining as one of the options for making cryptocurrencies. I surfed internet a lot and I ended up reading an article on steemit about crypto mining. That is when I first landed to the world of Steem. The platform was Greek and Latin when I initially landed here. All that I was looking here was to know how I can start my crypto mining by setting up a grid. I was about to invest on that but then saw people getting huge rewards for their contents in the trending page. For the first few days, after understanding the importance of a steemit handle, I was continuously looking for an option to change my steemit handle. I was even thinking of creating a new account with a better and attractive name than using a name with lots of random numbers in it.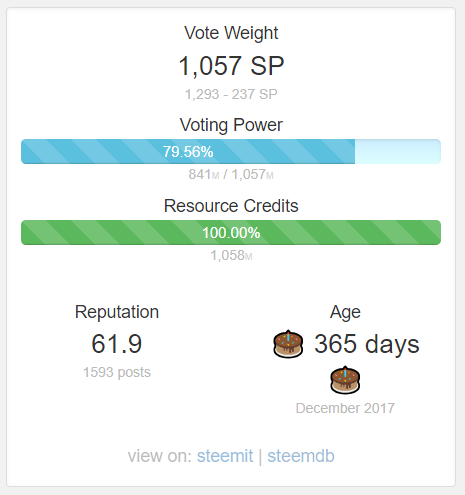 I was really surprised to see so much of rewards for one article. That increased my curiosity towards the platform. I started reading so many articles and I was surprised to see how Steem change people's life. I also found few articles where people mentioned that they quit their full-time job to join steemit and contribute content here. By the time I was trying to understand all these things, I had no idea about blockchain. I immediately registered in steemit to start contributing. It took nearly a week for my account to get approved. But in the meantime, I spent lots of time reading about this wonderful platform. The exposure was not just about Steem alone but I got to know so many things about blockchain in general. It took nearly a month for me to understand how the website works. There were few minnow tutorial that helped me understand all the basics. Every day I used to spend more than 5 hours to read articles and understand how this blockchain works. In spite of doing all those things, I still had lots of questions in my mind. I spoke to many people here to get answers for the same.
I have been a content writer for the past 10 years. I used to write lots of articles for many clients. I also had personal blogs. I was not very regular in writing and because of a long gap, I lost touch as well. After I initially understood that this blockchain really pays people for contributing content to the blockchain, I was really surprised. During the time I joined the steem price was almost 5-7$. It was really at peak when I joined and I did not have much to invest on steem. I gradually started writing but there was no luck. I was earning in pennies when I started initially. I found an interesting community that curated STEM articles. I then wrote a few STEM articles of my interest.
Community Building
I then found that Community building is the only key for success here. If we have to be successful in steem blockchain, then we have to make good friends here. This is something that I learnt later. This is also a good strategy in a way because we get to know so many good people all over the world. A group of individuals from India started a community called @indiaunited. I joined the community as soon as it was started. I was really happy to see so many enthusiastic individuals there. During the initial days of discord, we used to have lots of discussions and even video calls. It was a real fun. Below are some wonderful people whom I met there.

@sayee, @bobinson, @jatinhota, @inuke, @steemflow, @codingdefined, @face2face, @rzs, @vishalsingh4997, @hardikv, @nainaztengra, @erode, @sathyasankar, @silenteyes, @akdx, @akki etc etc. I'm really sorry if I had missed mentioning any of the names. You guys are really awesome.
I also joined few other communities as well and all those exposures really helped me climb up the ladder. I have been a part of so many other great communities but I was unable to spend some valuable time with members there.
I always have three things as my mantra here. I have been following this mantra from day 1 and I think I'm really satisfied being here in this blockchain. I would like to brief a little bit on the mantra that is keeping me connected with this platform. I believe these three things can even do wonders in our real life as well.
Consistency
If you are looking for success in Steem world, you have to be consistent. Building a good set of followers is very important. I learnt the art of being consistent from this platform. I used to be very lazy in writing articles. But today I've somehow made it as a practice to write at least a minimum of one article per day. This really gives me a good relaxation to my mind as well. I have to thank @sjennon for choosing my articles for curation for a week. That is when I really started to be consistent. From then on, I have been able to write minimum one article per day. Recently I have even increased articles to more than one as well for a day.
Persistence
Crytpo is having a tough time now. During the start of the year, the price of cryptocurrencies was at the peak and people earned a lot from steem as well. After the prices were dropping, people stopped their contributions to steem as well. Of course, it was affecting lots of people but there are still people who strongly believe in this blockchain and continue to be persistent. I always wanted to stand in that crowd. One thing that steem has given me is the writing habit to make at least one article per day. I have also earned a lot of friends from this platform. This is all the more reason why I still stay persistent.
Determination
During the initial days, it was quite challenging to get curated for my articles. I was so determined and I managed to stay here for nearly a year. I also have great support from some of my determined friends who believe in the future of steem blockchain. The emergence of new dapps and interfaces like musing.io increases my determination.
Journey as of now
If I will have to consider my financial success in this platform, I would like to say that I have made nearly 1000 SP in the past one year apart from the investment I made here. If I will have to thank someone, the list will be very big. So many people have helped me grow in this platform. I started in this platform with zero investment. I was wondering how people were making lots of money from this platform. Later I focused more on writing and making friends rather than worrying about how to increase my earnings. As I focused on increasing my friends' network, the rewards started pouring. I would like to display some stats from steemfriends website.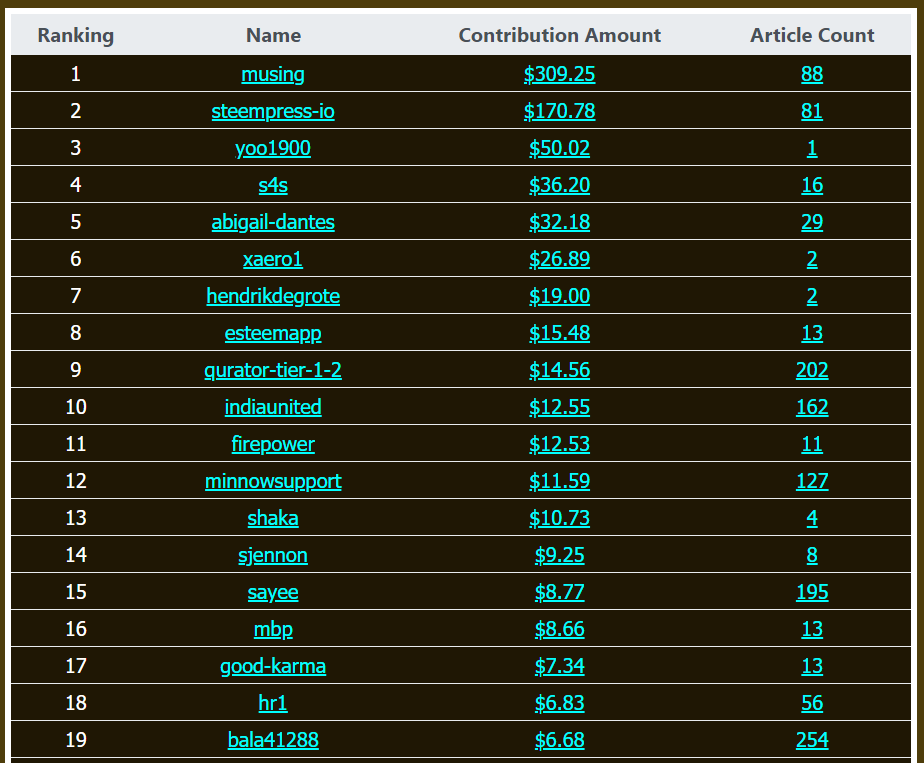 If you had noticed, all the votes I received has always been organic votes. During initial days, I experimented bid bots and later I stopped using them because I did not find it comfortable to use for ethical reasons. I would like to personally thank all the people who curated my posts and who found my articles valuable and interesting to them. I would also like to thank @firepower for rendering continuous support to me and to people from India. He has always been a great inspiration for me.
I thought of covering so many things in this article but it has already become very lengthy. I would like to wish all the best for all my friends in steem blockchain. We will hope to see the price of steem hitting 7 $ soon next year.